Congratulations Schultz on another Big Win!!
Congrats to Snowbiz Schultz who earned his championship with a 4 point major! More news to come as he continues his show career!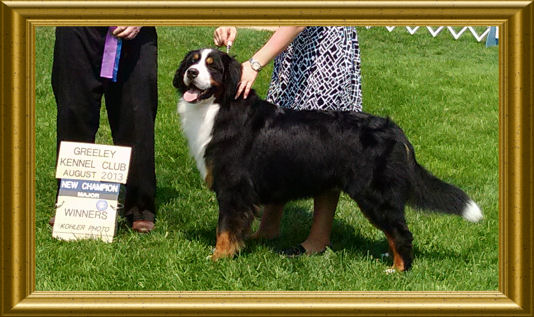 Congratulations Snowbiz Gallant Jake!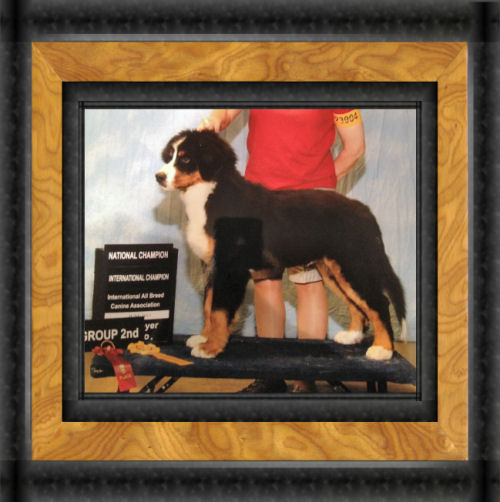 Snowbiz Gallant Jake became a International All Breed Canine Association National and International Baby Champion in Oklahoma City on June 30, 2013. After winning Best of Breed, he placed Second in the Working Group. He was bred by Jill Breedin and Alfred Breedin of Snowbiz Berners and owned by Karen Byars and Richard Anderson.
Big Win for Snowbiz!!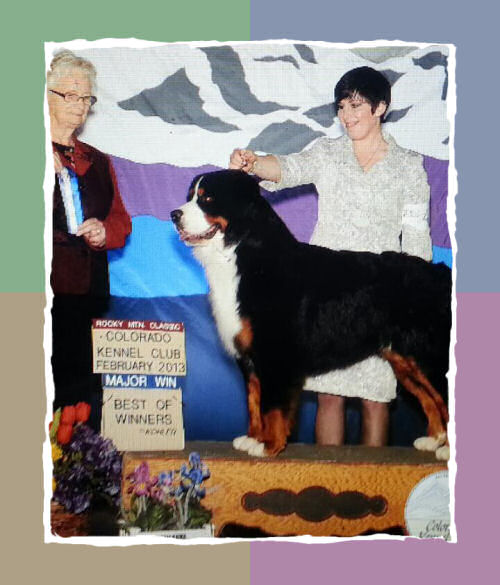 Snowbiz Berners sends out a big Congratulations to Snowbiz Schultz, owned by Maryjo Hoffman, and sired by Highlander van't Pachthof and out of Fairest van't Stokerybos. On Feb.15, 2013 Schultz was entered in his first show. Friday, he won his age group, won Best of Winners, and placed second in Best of Breed for a 5 point Major! Of course he attractted a lot of attention from everyone. On Saturday he repeated his wins for a 4 point Major! And then once again on Sunday, he repeated his wins for another 5 point Major! We are very excited for Schultz, as this is quite an accomplishment since his is just 16 months old and this was his first show. I know he will have an exciting year!
New From Chile!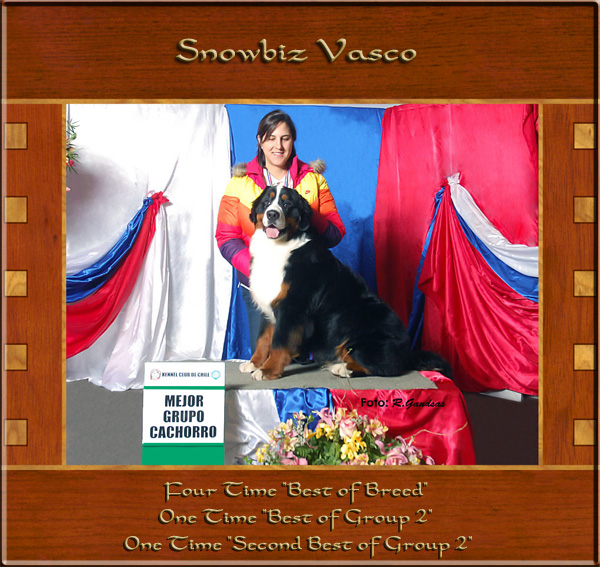 Hi Jill,
Vasco is absolutely wonderful, he is growing healthy and very happy... plus he is doing great in shows. He is very active and loves to run around with the rest of his pack!! All of the above were obtained in competitions that were part of a very important Show called the Bicentennial Cup, in commemoration of the 200 years of independance. Hope you enjoy the pictures. Best, FA



New From Belgium ~ Snowbiz Snowy!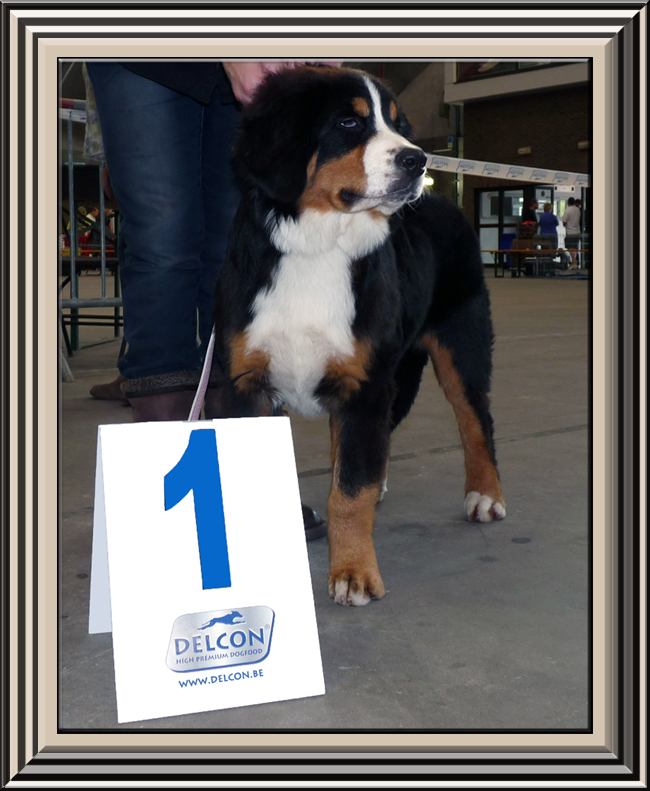 22-08-2010 St. Rombouts Cup International Show Mechelen(Belgium)
Judge S. Mutsam (Germany)
Jill, Snowy was first place promising puppy! Regards, Bettina
New From the Netherlands!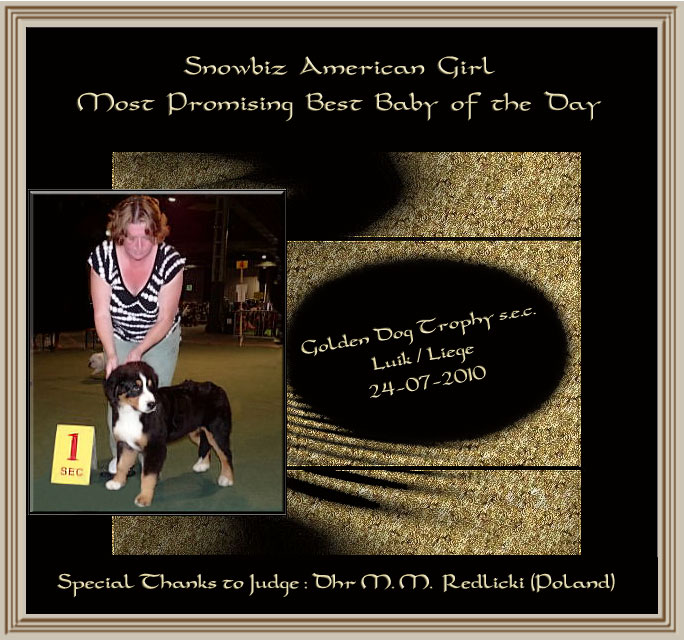 Snowbiz Snowy
Vasco - Best of Breed Puppy Again!
Jill,
Vasco was twice "Best of breed" as Special Puppy in June (under 6 months). Both Judges loved him. Next weekend is his first show in the new category (over 6 months) so I really hope he will enjoy it and do great again!! I will keep you posted. Best, ~FA


Dear Jill and Alfred,
We just wanted to send you some pictures of Vasco (Jack) who did great in his first show as Best of Breed Puppy. He also did a great job at the Group Level with a wonderful third place. The judges were from USA and Canada and they loved him!! He is really adorable, growing every day, always hungry and having fun with the other Berners of our family. We hope you are doing well and enjoy the pictures. Lets keep in touch. ~FA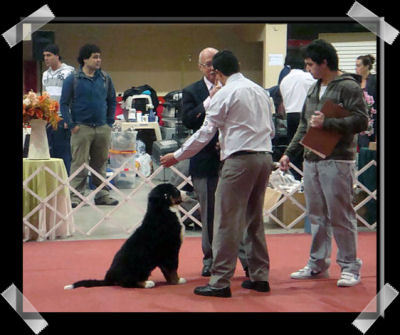 Our Delta Society Graduates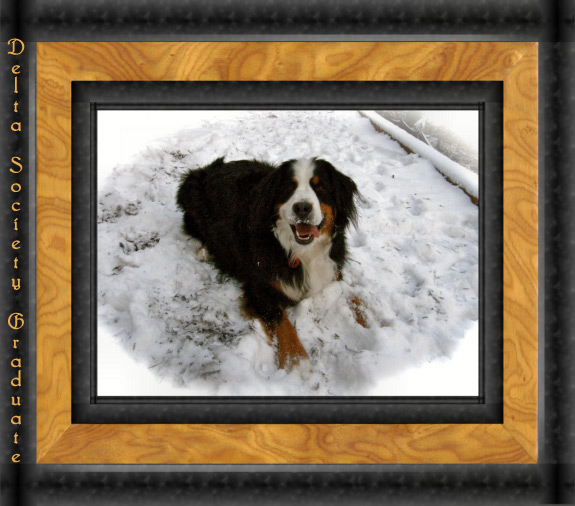 Jill,
It has been quite a while since my last email-I'd thought you might like to know that Morgan (formerly "Adin") has turned into quite a wonderful dog. I've attached a few pictures of her-you can see she is very photogenic (but, then again-what Berner isn't?). We've accomplished a lot with Morgan-she has passed her AKC Canine Good Citizen and is now a registered therapy dog with Delta Society. Twice a month we visit the local library with "READing Paws" and kids sign up to read to Morgan. Needless to say the library staff and kids look forward to her visits! Beth, Wil & Morgan Roswell, GA



Jill,
Just wanted to update you on Kodiak's accomplishment. Yesterday was his 2nd birthday and he tested for Delta Society. He passed and will now start his patient visits at the hospital to do pet therapy in a couple of weeks. We have to wait for our credentials to come back from national. I am so proud of him. He is wonderful with everyone and to be able to share this lovable little boy with others and to know that he will make a difference in their lives the way he does for us is a wonderful thing. I attached a picture of him with his Delta bandana, I won't put the vest on him as it would cover too much of his beautiful body and I want to show him off. Looking forward to seeing you after the summer to get our new little boy. I won't be working by that time and my hope is to drive all the way to the farm and bring Kodiak with me so you guys can see him. I will send more updates as we start our pet therapy visits. Bless you and thank you for allowing us to be the parents of the most amazing boy....LeAnn



Snowbiz Berner Otis with Susan Morgan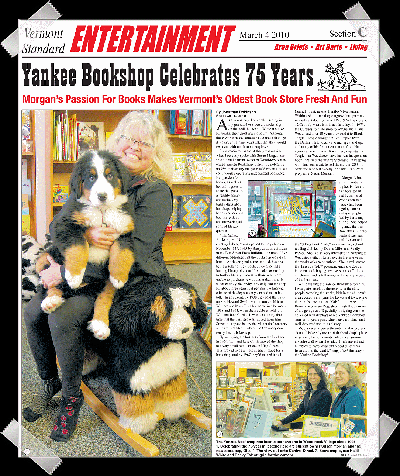 Snowbiz Berner Otis with Susan Morgan
The Tales (or Tails) of a True Service Dog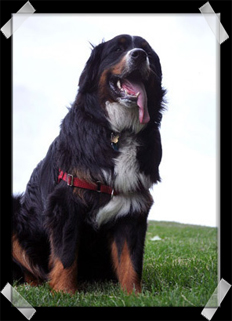 Abby & John
The loss of Angus had troubled me for years. I had been a dog owner all my life but Angus was my first Berner. Whenever I saw one of our magnificent animals I would stop and remember all the wonderful times we shared. I have been disabled for a very long time, ever since the Pit Bull Attack, so Angus and I were together day and night. And the attack? I often say that I am the last victim of Ted Bundy...But that is a different story for a different time. After the attack I sustained a near fatal heart attack, a stroke the following day, followed by brain surgery. According to my physician, I was a perfect candidate for a "Service Animal". All of this was easy in comparison to finding Abby.When I had initially decided to find my first Berner I had no idea how hard it would be. At each venue I attended I was rudely rebuffed by anyone I approached regarding our breed. It seemed that If you were not a Berner person, you would not be one. It was only by great luck that Angus and I were brought together. When I arrived in New England I hoped that the attitudes had changed, or that it was just a "southern thing". Unfortunately I was new to the area without contacts. I was wrong and it took a full six months, the help of my friends, and a great breeder to help find Abby.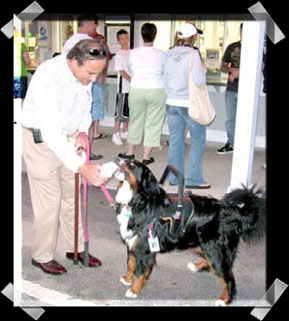 When Jill, Abby's breeder, and I started talking she took the time to understand all of my issues, my special needs. I am neurologically and physically handicapped. Although I can walk forever outside, I do fall occasionally. But put me in a crowd and I can not process movement quickly enough, I fall down quite often. I needed a Berner large enough to guide me, to catch my falls, but small enough to fit in a restaurant or a church pew. It wasn't until later that I found that Abby would also help me when I became disoriented, neurologically lost.
Jill promised me that she would wait until the right dog came alone. She worked with a number of breeders, and said that she would find the right mix of size and temperament for me. It took some time but Abby arrived via Southwest three months later. And with that the games, and damage, began.
Abby quickly enrolled in "Puppy Training" and she was the queen of the ball. Jill was very correct that Abby would be of above intelligence and looks (my chick magnet I call her). But the training was quicklystopped by an unfortunate event. When she was walking through a local restaurant, proudly wearing her "Service Dog In Training" cape, she was intentionally kicked by an elderly man. He told me that he was scared of dogs and to get her out. She was in obvious pain, wailing and could hardly walk. I just sat in my chair holding her in my arms. That afternoon the Emergency Vet told me to take her out of any activity until she recovered.
When she recovered I enrolled her with Linda Cagan, a trainer in Manchester NH. Linda brought her all the way to earn her AKC Canine Good Citizenship. With her new title, Abby and I are free to visit local nursing homes and hospitals. And it is so wonderful to see the joy that she brings to the residents with her weekly visits. I can tell when I look into the room who wants to see her by the immediate look of surprise and happiness in their eyes. It is so unfortunate for these individuals. From our experience, it is a dumping ground for the elderly. And if it were not for Abby, for some of the people they would not have another visitor.
The training did of course teach me to teach her, the basics of "doghood". It helped to teach her where and how to walk with me. And through this, it has saved me from further injury and helped with my mobility. There have been numerous occasions where I have become unstable and I would immediately call Abby directly next to me with "HAND". Hearing that Abby will come to my side and wait for me to turn and place both my hands on her for stability with "STAY". Abby will stay, stabilizing me for as long as I require, sometimes a minute or longer. Sometime things do not improve and all sensation to my legs is lost and I fall completely. Abby allows me to put my entire weight on her as she sinks to the ground and allows me to use her as a pillow. She does not require any command to stay but just lays under me until someone comes to my aid. Abby learned easily and that is where Jill did her job as promised "... with superior intelligence..." But this also shows love, a special caring that Abby has for me.
There have been occasions when I have not called her to my side, not realizing that I am about to fall. But Abby always keeps a keen eye on me, and when that happens she responds without commands. Recently I was on line at the Deli, her favorite place, when I started to collapse. Two things were in play. I didn't realize that I was swaying, and Abby was watching me instead of the Roast Beef. And as I started to head for the tile, legs dead again, I realized that Abby had jumped, literally jumped, from her position feet from me, to station herself by my side ready to catch me. And the Vet be …. she received two pieces of Roast Beef for that.

But that baits the question as to where training comes in and intuition takes over. As a young puppy she was used to coming with me everywhere and everywhere we went; Frick and Frack, Abbott and Costello, John and Abby. Countless times I would hear from someone "we saw you in ..." No, they saw Abby and remembered her. There was not a Dunkin Donuts in town that was not graced with her paw prints on the counter as she was given her Munchkin or a grocery deli clerk that didn't give her prime rib; no cheese for her! As you can imagine she knew which stops to make with me. But this eventually caused a problem. Abby's vet was short on social graces and when she entered the examination room one day, instead of the customary "hello's", I was greeted with a scowl and "That better be fur". Abby had put on an additional pound or so. Realizing that this was not in her best interest I made a promise to lean her down a bit and keep her away from those stops for awhile.
Shortly thereafter we had to stop for her Yogurt, in the dairy aisle of the local grocery. As we walked in Abby headed straight for the Deli and I commanded her stop. Single minded she started to pull me in her direction...And just as forcefully I tried to pull her my way. What ensued was the first real argument we had and it lasted too long, my neurological problems took over me and I lost sense of time and place. Abby realized that I was in trouble and stopped fighting me in a heartbeat. She forgot her stomach and pulled me the entire length of the store to a bench where I could sit. Then she crawled under the bench until I recovered. There was another incident just like this. We were at the movies and there was just too much input for me to process. I knew that we had to leave, but once again I was completely disoriented, lost, unable to walk, and in pain. Abby once again took over. She guided me out of the theater and when I tried to go the wrong way, she turned me toward the lobby and then to our car. I can't explain how she was able to do either of these things for me. It is something that can't be taught. Intuitively, Abby knew that I was in trouble and knew that she had to take over to help me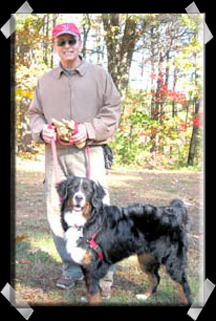 And sometimes her help comes at the absolute wrong times. Prior to Easter we were at Church going to confession; a Catholic thing although she has not received her Sacraments yet. When I entered the reconciliation room I chose to kneel before my Father instead of behind the screen. There was just a few feet between us...A nice man but a cat lover. Just as we started my confession Abby decided that I was in peril because I was down on my knees. And all during the ensuing ritual she circled me, trying to pry me to my feet with her head between my legs. And each time she did that she bumped her rear into Father. It was a rather short ritual...And a rather short Penance. Thank you again, Abby!
Her natural affinity towards affection just recently gave me heart failure.
We were walking in sears when a trio of rather elderly Nuns caught our eye. Any of us who attended Catholic Schools remember them as being stern, stoic and without humor. This was of course a long time ago and things have changed....they have changed. But this was a group nearing retirement and one of them called Abby over for a closer look and to admire her. My Abby affectionately raced between her legs, throwing her habit high in the air waiting to have her butt scratched, something she loves to have done. Since I was on the other end of the leash there as nothing I could do except wait for the Nun to order my arms extended for my palms to be smacked by the ruler. But instead she amazed everyone there, except Abby of course and gave Abby a good butt scratch.
One Sunday a month ago we were at St. Patrick's Cathedral in Manchester for Mass. We sat in the very back where there is ample room for the handicapped. But when it came time to receive communion, Abby and I have to walk the entire length of the church to get to the alter. With me walking inside in a crowd, stopping always causes me to fall, so I make sure to have Abby very close to me. And with the entire congregations eyes on her, as this is not her parish, we made it all the way to Father Joseph without a hitch, until Abby caught sight of the "food" in the Chalice. Just as I stopped to receive, I started to fall and my legs gave out and I did not have time to call "HAND". But Abby immediately turned her attention away from her "meal" to slide closer to me and support me so that I could maintain my position...and some dignity. I think that Father Joseph actually gave Abby a little special blessing that day.
Abby, with her big floppy ears is experiencing her second ear infection. On the way to her Vets yesterday, I thought it was time for lunch, get her out of the car, for some water, exercise... When we walked into the restaurant, McDonalds, I was greeted with "are you blind?". I obviously answered truthfully that "no, but you do not need to be blind to have a service dog, there are a number of reasons...". That did not satisfy the counter person who went on to ask what my disability was to which I refused to answer. Again, Abby as usual was identified as a service animal and I verbally told this man that she was. Again, he asked me to leave.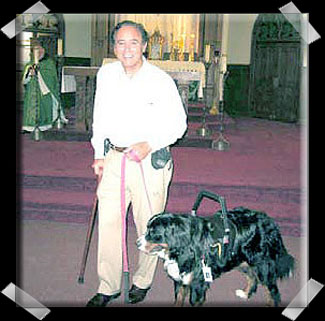 I refused and asked him to check with his supervisor about the appropriateness, the law. Again I was rebuffed with his telling me that "I am the Manager, and if you don't leave I am going to call the police". There was a large crowd around us listening to this, Abby was sitting docile at my feet; thankfully not counter surfing, and I was shaking I was so upset. But even though my hands were shaking I called McDonalds Corporate to have them explain the law to this man. While I was on with customer service, who was telling me for the third time, that they would not intervene, the police arrived.
When I broke the call I approached the officer, who by this ime had made a clear explanation to the manager. He was he towns ex K-9 office and absolutely adored Abby. And by luck that morning I had given her her weekly bath and conditioning; she was sparkling inside and out. Yes, I did go to the counter to get my sandwich sans apology. But when I sat down, I was still so upset that most of it ended in the trash. Most of it... Abby had some. I know, I know. And although she has not been feeling well, those ears, she was on her best behavior through all this. As if sensing that there was an issue surrounding her.
Before this was over, due to the stress, I dropped into deep pain again, severe spasms. With that, unfortunatly I have to medicate with rather strong narcotics. And then, very carefully we went to the Vet to have her ears looked at. And yes, another ear infection. I was told that, "no, it's not the baths, it has just been so wet lately". But at least I feel better knowing that I may not have eased her discomfort and I know she feels better already, as her behavior is improving. She is listening to me this morning. She may not be altogether better, but she knows that she is on the way, she does.
This is the second time that Abby has been asked to leave a restaurant. The first was also at a McDonalds, by the manager. But there, the manager listened to me and took time to understand the meaning of the sign on her front door "Service Dogs Allowed". There have been more subtle rebuffs but never one this disturbing.
Abby is also on retainer for my optician... I had, and "had" is the key word here, three pairs of glasses. Every morning I shower and Abby maintains a position just outside of the bathroom door waiting for me. One morning, when I got out, Abby was gone. As I got out of the shower I was looking for my glasses to go look for her. I couldn't find them, until I found her...one pair down. The very next morning I got out of the shower again...another pair down. All I had left by now was a $10 pair of Walmart cheaters, but the very next morning... you guessed it, three pair in three days. Today I wear contacts.
Through all of this, Abby's training also helped to train others. Linda, our trainer, called me one day and asked that I contact Melissa Royer(who also is a trainer in Manchester NH)to have Abby work with one of her own dogs, Suko, a German Shepherd. Suko was having socialization problems and was terrible shy of other dogs. Linda felt the Abby was the perfect temperament to help Suko. And that worked out very well, I often can take them for walks together, in tandem. Afterwards I always give them time to play together...although Abby is being trained as a service dog I break from the convention and am adamant that Abby is allowed to play often and just be a puppy.
John Penso & Abby

Photo Gallery | Letters | Return Home