---
Here is beautiful Scout....it's almost her second birthday and I thought you might like to see a photo of her! She is the smartest and most wonderful dog. Libby Byrum
---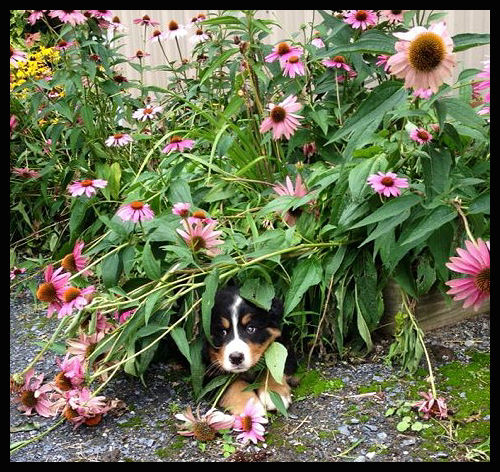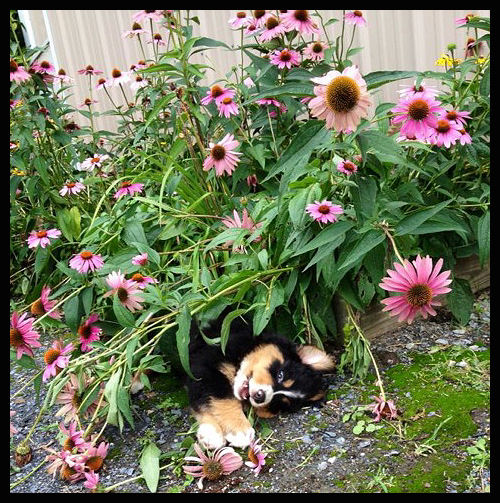 Hi Jill, We love this puppy to no end. She's really amazing, and she's making everyone who meets her happy. We have a steady stream of friends coming to the farm to visit her. She's becoming a celebrity. This photo was taken a couple of days ago by one of her fans. She was conked out from playing so much. In fact, she's been so busy playing with her big sister, Amelia, and all the people who visit her that she sleeps really well at night in her crate in our bedroom, so Dave only has to take her out once during the night (at around 2 AM), and then he can sleep until she's ready to start her day at 6 AM. He's responsible for her bathroom needs at night because I watch her all day long. It works out perfectly. We have named her Alma. That's an old-fashioned English name (very popular at the end of the 20th century), and in Spanish it means soul, or spirit. The phrase in Spanish, "Mi alma" (My soul) is a term of endearment that translates as "My Love," or "My Dear." This evening Isis/Alma begins puppy kindergarden. Dave is very excited to take her. Tonight my nephew is driving over from Virginia to visit his "cousin." Regards, Julia
---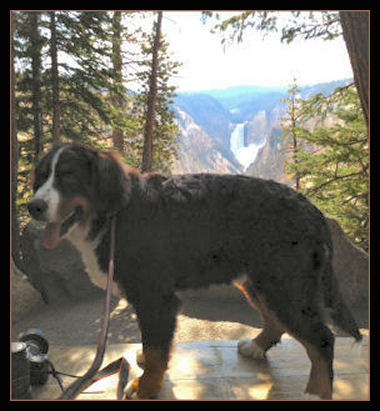 Just home from Montana. We all had a wonderful time. He took his first swim in the Yellowstone River. We held him up until he hot the hang of it, but he still walks around ALL puddles and tries to keep his feet dry when drinking from a creek!! But his tail wagged the entire trip, unless he was exhausted. You would be very proud of him. He's very well mannered and absolutely beautiful. A complete joy. We took him everywhere, and he loved all the people. Of course, they all were there just to meet and pet him, or so he seems convinced!! Will send a couple more pictures, but he's great and nearing 75 pounds, but not fat, just incredibly thick. K. Byars
---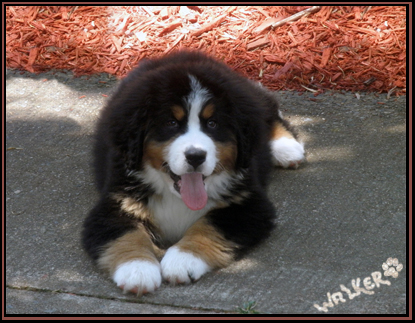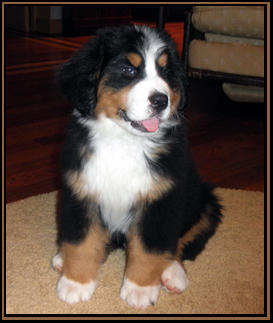 Jill and Al, Walker is doing great and really starting to grow. He's all puppy and everything goes in his mouth if he can get it in. He's a real joy and we are so pleased with him. Here are a couple of pictures at not quite 11 weeks. We have a lot with him playing with the kids, but I figured if you wanted to put some on the website someday, my kids are probably not what you are looking for. Take care, Jeff
---
This is Him a few weeks ago....its too hot tonight to take photos, and he just sighs when I call him to get up off the AC vent! LOL!!
What a joy he is, so laid back. Only thing that excites him is coming back inside to lay on the vent again :) Keeping him cool is our first priority!
---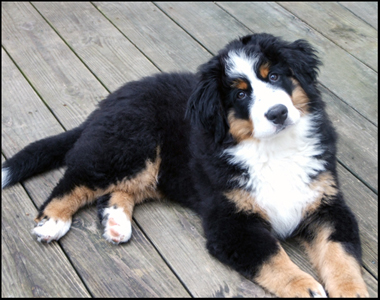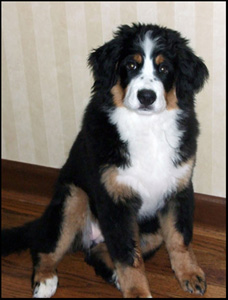 Hi Jill and Alfred! Just wanted to send a quick update on Zellie and of course a pic or two!! None of can believe how gorgeous she is. Her coat is to die for and just keeps getting more beautiful everyday. We are now in CGC class and Zellie is doing great. Her temperment is so wonderful and laid back, she will do all the commands and then go down, roll over, paws in the air, and look at all of us like, ok, enough already!! I took her this wknd. to her first nursing home visit and she was an instant hit! She behaved so well to be just nine months old...no one could believe she is still a pup. One lady wanted me to put her in her lap so she could love her :) I told her 70 lbs was a bit much to hold in your lap. LOL She will definitely be a perfect Therapy Dog. Thanks so much for providing us with such a wonderful soul. Hope you enjoy the pics. Again, tell Alfred Lil Nan says hello!! Take care. Beth Weaver
Hey Jill, just wanted to send you a pic of Zellie and tell you she is absolutely the best dog ever! I will never have any other kind of dog and 'look out' because as soon as I can convince Danny, I want a boy so Zellie can have some company!! We are on our 4th puppy kindergarten class and she is doing so well. Everyone pretty much drools over her. I went to my doctor today,(her husband is a vet), took her a pic, (she has already met Zellie) and wants me to bring her next week to my next appt. so she can 'love' her while I am having a test done! She looked at the pic and said she had never seen such perfect markings. Zellie is indeed one beautiful pup. And her sweetness just goes along with it. We have learned so much and she picks up everything so fast I just can't believe it. She now weighs in at 36-1/2 lbs. I took her in to the vet today for a toenail trim and none of the staff can keep their hands off her!! We all love her to pieces...even my 21 yr. old daughter told me she is jealous!! I pay more attention to Zellie than her!! :( Thanks so much for such a wonderful and loving companion who we all treasure and look forward to a long and healthy life together. Take care. Tell Alfred hello and "Little Nan' has not forgotton him!! Beth Weaver<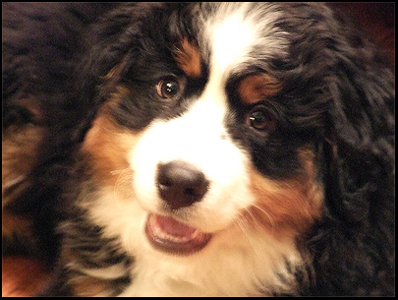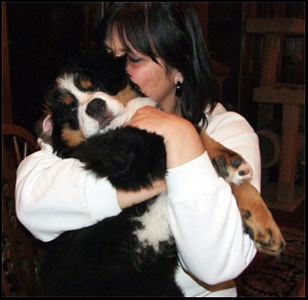 Hey Jill, well, I am sending you pics (of course) of this precious girl. I could eat her with a spoon!!! She is smart, loving, kind, gentle, playful, funny and stubborn. Her determination is amazing when she sets her mind to 'not' listening!! She still loves to eat everything in the yard and you have to watch her like a hawk when she is inside....things can quickly disappear down the throat! I can see changes each week with her maturity. Her mouthing has pretty much completely stopped. Now she is so gentle and I see that the older she becomes the less she uses us as a chew toy!! Amazing! Her bathroom habits are great and she is sleeping around 6 1/2 hours at night before needing out. At 3 1/2 months we are all ecstatic with her. She is growing like a weed, I am free feeding and home cooking to mix in with kibble....green beans, peas, carrots, hamburger, chicken, and turkey. I also use the broth as well and give her 2-3 tablespoons of plain yogurt (which she adores). I will get some salmon oil to mix in from your advice. Her skin is a little flaky but better now since the weather is not so cold and wet. She is a wonderful addition to our family, she and my daughter's Yorkie are best friends (now that Zellie has learned not to put the Yorkie's entire head in her mouth!) She and the cat are even coming along, it will just take maturity on Zellie's part but for the mean time, the cat is keeping her in check!! Thanks for getting back to me on the baths....I will try to keep them few and far between....we do a lot of brushing.....Thanks so much for her Jill....she was so worth the wait.......Beth
---

THOUGHT YOU MIGHT ENJOY THESE.........WE HAD A SMALL FAMILY GATHERING (MAINLY FOR THE GIRLS TO ENJOY). He is such a handsome and precious boy.........most loveable dog we have owned ever !!!!

---





Hi, Jill And Alfred; Just a quick update on our Bartli on his four month "Birthday". Last Thursday the Vet gave him the rabies shot and a Parvo shot, as well as a heartworm pill and flea pill. We have now applied for the local dog tag. The Vet said we only needed to bring him in about once a month to weigh him, if we want to. Last week he weighed in at 38.6 pounds and seems healthy as a horse. He still makes puddles in the house on occasion but he always sleeps through the night though, and that is very much appreciated…! He is beginning to shed his puppy coat, as a "shiny hair" spot appears at the top of the root of his tail. Over Easter we took him to a 2-day family gathering in Flat Rock N.C. He loved all the attention he was getting and he is very outgoing. The 1-½ hour trip in our van was no problem at all; he seems to like to ride in a car and settled right in. This past weekend he "supervised" our yard work while we were pulling weeds and spreading "Black Gold". Bartli is our pride and joy, he is beautiful and very alert and he seems fearless! He likes to chase tennis balls in our back yard and in the evening he hangs out with us on our porch, enjoying the current beautiful, cool evenings. I am attaching a couple of pictures taken this past weekend. Hope you are well! Best regards,
Peter Bernet


---






You are going to get sick of my photo updates! But I am just so pleased with him!! He has the most perfect stool, and does both jobs by the fence in the taller grass :) training is going great. He likes to sleep next to my nightstand; only wakes up if I get up in the night, then comes to find me. He and I have only been apart for 2 hours since I got him :) He spends all of his time with me. Knows his name, and loves my shoes ;) On another note, my boy Packer got another point this weekend and my girl Carnie got her first point too~ and went BOS~ she is six months old :) I do have a gal that is wanting another Berner, she imported her last boy he is Frost Van T Stokerybos, getting up there in age. I told her about your dogs and how fabulous Nick is. She has the litter sister to my girl, Carnie. She also has shown Frost but did not finish him. Anyway, I can give your info to Ann if you would like. Have a great week! Steph
---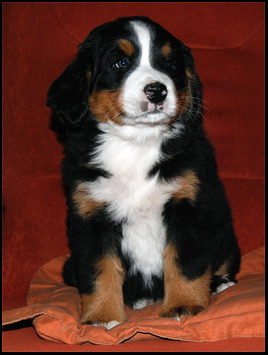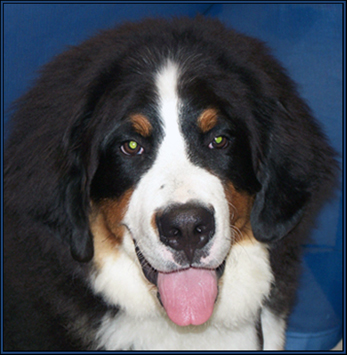 Al and Jill, We took Ferris to the vet the other day and he is up to 36.6 lbs. He is doing well and we ended up changing his name to Bernie. Today he will begin puppy school. I have also attached some photos for you to view. Donald Robertson
Hi Jill & Alfred, We have not talked in a while. Thought we would send some pics an tell you what's going on in Bernies life. He just graduated puppy school; he also will be going to intermediate class. He was neutered on wed and is doing fine. He weighs 65 lbs right now. He is a very happy puppy. He loves to ride in the truck, and goes to work with me every day. Thanks for a wonderful dog. Donald & Tracy
---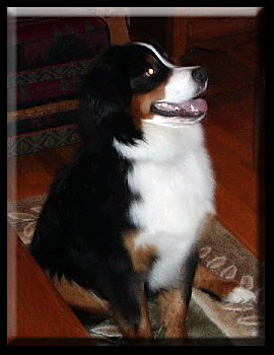 Hi Jill: Shamus (Adam) is without question the sweetest dog we have ever seen, let alone owned. So you can see the difference between the cuddly little pup you handed us and the cuddly year old, a picture, taken today, is attached. Shawn Malone
---
Hi Jill - I wanted to drop you quick note and let you know that Caroline is doing really great! She has had a bit of an adjustment to make - obviously.... But I think she has finally found her place in our "pack". She has made lots of 4-legged friends in the neighborhood and lots of 2-legged admirers. Everyone just loves her and asks about her! She is very sweet and we are making very good progress on her teething mouthing. That has definitely been the hardest part. She is also able to make it 6 hours (maybe more) in the crate at night before a potty break. Also, she is 21 lbs, we went to the vet yesterday for her 12wk check-up. The vet is very pleased with her growth and weight. We really love her and are enjoying her. Thanks so much for everything. We will send pictures as soon as I download them! Talk to you soon. Kristin
---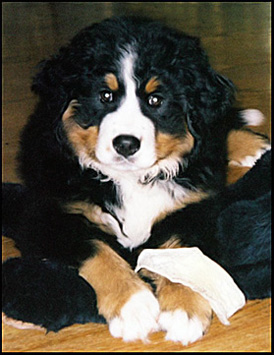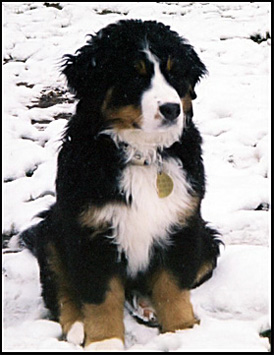 Hi, All is well. On Feb. 1 at the vet's, Eva weighed 18 1/2 lbs. The vet mentioned a dental vaccine. I was prepared to clean Eva's teeth myself and I agree with the literature you sent about over vaccinating. What are your thoughts on the vaccine? As far as filling out the registry, is there any pattern to adding one of her parents last name or what? Lastly, Eva is just wonderful. She is very sweet. Of course she's all puppy. She's very smart. She will go to the door when she needs to go out but sometimes I'm not fast enough. She knows at the bank the return tube will have a treat in it. I keep it and give her one of the Flint River wafers instead. Today, it snowed and it stuck, almost unheard of for here. Eva loved it. I got some pics that I'll send but I have to get on my son's computer. She is very good about getting brushed and having her ears cleaned. She's really a pretty easygoing pup. Ya'll do a good job of breeding good pups. Thank you so much. Debbie
---
Here are some recent photo of Ella (I took them about 3 days ago), she is a super puppy and is doing very well in puppy class, it is surprising how many people stop me to talk about her:) I have even had a couple of people tell me that they had had a Berner and that they were surprised at how calm and out going she is, I just know she is a great puppy and getting bigger by the day:) she does get into things but that is only natural for puppies which we seem to forget at times because she is so big for being about 4 months old:) I was trying to take photo's of her doing her normal everyday things, chewing on a tree stump, running, and lying on my plants. Let me know what you think!
Hi Jill, I thought you would like a couple more pics of Ella, these were taken a couple of weeks ago, but I thought you would get a kick out of them. She is getting very big, still gorgeous, still rambunctious, but she is so damn cute!!! The first couple of pics is with her hanging out being one of the gang and of course had to have her own chair. The third one she is sitting by my daughter. By the way she passed puppy class, not sure how but she did:) We even ran in to another Berner, I don't want to sound prejudiced but he was no where near the quality that Ella is, I asked where he got his dog from (male) and he told me down state, his coat had a brownish tint to it, and his muzzle looked snippy, friendly enough but no where near her quality, my daughter was with me, and we both told Ella, don't even think of him as Beau, because he isn't good enough, we sure are snobbish and will be very picky where Ella is concerned :) This guy was watching us at one of the puppy classes. He watched, walked away, came back a couple of times and was watching her, he finely came over to me and said " she is a very intelligent puppy (like I didn't know that) and he wanted to talk to me about her and ask where did I get her from etc., so I told him. I know he was impressed by her, but there again nearly every one is that sees her. Anyway I thought you guys would like to see her and to know she is doing well, she is still very stubborn, still trying to get her to stop biting, but we love her dearly. Take care, Jane S.
---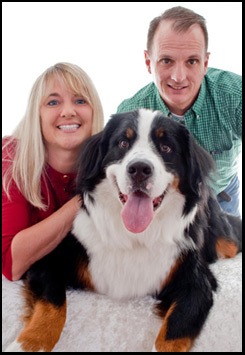 Jill, Hi, hope all is well with you. I just wanted to send a few updated pictures of Kodiak. He is such a sweet boy. We love him so much. He is doing so well for us. He is so smart. He picks up on everything. He is potty trained well and doing all his business outside. He sits, lays, rolls over, shakes and gives high five or as my husband says I teach him stupid human tricks. I am working on stay and leave it alone or no, but they are a bit harder to keep his attention long enough to get it at this point. I weighed him on the home scales yesterday and he is between 28 and 30 pounds at 13 weeks and 4 days. He goes back to the vet on Monday for his 3rd series of shots. He has grown so fast, his head shape is changing a little bit now. He hasn't started to shed his puppy coat very much yet. I am noticing just a few bits on occasion, but not very much even when I comb him. He is eating well and loves to eat his apples, yogurt or cottage cheese each day. He likes bananas pretty well, but broccoli is hit or miss depending on his mood and not so big on the carrots. He is doing well in his kennel on the days that I work or the times we go out. He doesn't want to go in it on his own, but once he is there, he is fine. The only bad part about the days that I work and he is in the kennel, he sleeps to much and then wants to be up at night. He loves to play out in the rain when it is just drizzling or lay in the wet grass in the mornings. He is a frog hunter. I didn't realize we had so many frogs in our back yard, but he always finds them at night when he is out doing his business. We bought him a new stuffed frog toy and a Frisbee this week to start tossing to him. He still loves his little pig you gave him as well as the other chews, especially the different consistencies of rubber for his back teeth that are trying to come in. He still sleeps in our master bath at night and various places during the day. We don't leave him out side during the day because it is still just so hot and he hates the sun. He likes to stay out when it is dark and early in the morning for 30 minutes to an hour at a time. I have been able to trim his nails and brush his teeth pretty easily. We have introduced him to a couple of the neighbor dogs that we know well, but not many as we don't let him out in the public areas since he still has one set of shots to go. He really wants to play with them though. Some loud noises still scare him if he is out in the back yard. He is funny when he is sleeping and you just can't help but pet him or want to hug him and he gets irritated and just gets up and moves to a new spot to lay down and go back to sleep. He is so playful when he is awake though. He is the cutest when we come home from work, he is always so happy so see us and you just fall in love with him all over again. I usually get home before my husband and we play and eat, etc and as soon as he hears the key in the door he stops everything to run and greet him. We could not be happier with any other puppy. He is perfect. I think that is about it for now. LeAnn
---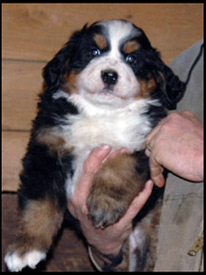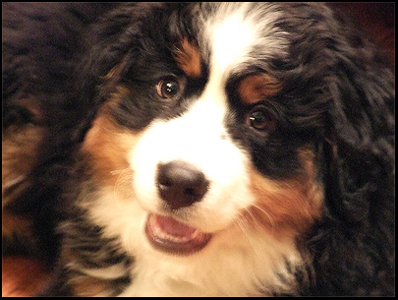 Hey Jill, oh my gosh, she is wonderful! Have had to tempt her to get her to eat, so I chose green beans and mixed them up with unimilk and kibble and bingo!! She is already scratching at the back door to go out. If this weather wasn't so horrible I believe we have her potty trained soon, soon!! Also, she does not whine in the crate at night, she yodels!! After a minute or two of louder by louder 'yodels' she suddenly stopped and slept like a baby, woke up once took her out and she went back, yodeled, and fell back asleep!! She was wide open this morning at 7 AM but basically passed out about time we wanted to go show her off!! She is very smart. The cat has scared her to death but that hopefully will come with time....(when she outgrows that cat, watch out cat!!) . Introduced her at the vet today and we see him next week for a check up. They told me she was definitely the cutest pup ever to have come in the door!!!!!!!!! Thank you so much. I can tell she misses ya'll though....bet you miss her too. Hope you have survived weather and I think there may be more on the way....take care and I will send you updates...Beth
---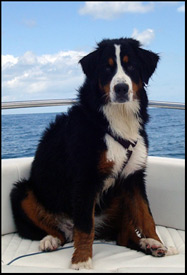 Jill, I just wanted to send you a picture of Kimba (Roxy) who turned one on 18 NOV. She is doing wonderful, is perfectly healthy and weighs in at 80 lbs. She has been the greatest addition to our family; even the cats don't mind her! We love walking with her and swimming too, she loves the pool as you can see from the other attached picture. We can't even go for a walk without someone stopping us and asking what breed of dog she is because she is so striking! I wanted to say hello, Happy Holidays, and thanks again for such a great, loving, and perfect Bernese. :) Wendy and Nicholas
---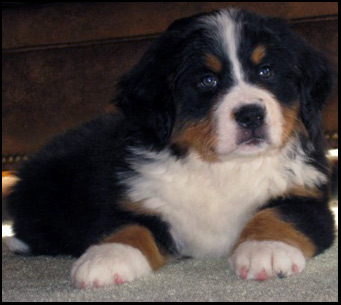 Here is a pic of her now!!! She is growing so quickly and is really settling down. We could not be happier with her temperament. She is super tolerant of Henry (3years) and plays well with Max (6years). We took her hiking for the first time last weekend and she did great, about 2 miles. She also is getting much better at her daily walks. She gets two 40 minute walks a day - one in the early morning and another in the evening before bed -unless it is still hot in the evening, then we only go out for a little bit. And she is certainly the hit of the neighborhood. People stop and ask about her all the time!! Of course she loves all the attention. We plan on taking her to obedience school at some point. We just love her! Talk to you soon. Kristin & family
---
I know it has been quite awhile since I last wrote to you about Abby, and I do apologize for that. She is doing very well, and is very, very attached to me. She will wait by the bathroom for me to come out ASAP, but first she will sit there and whine and humph. She is so very vocal and funny. She wakes me up almost every morning as if she could tell the time herself. I don't even set my alarm anymore, she is that good. The only time she misses is when she had a very active play date with one of my son's dogs, which she just loves to death. Actually she is very good with any dog that we bring for her to meet and play with. Two weeks ago at the vet (just for heartworm pills) she weighed in at just less than 75 lbs. She is great in my Pathfinder when we go out, and lays down quietly in the back seat. What a difference from when we brought her home. When Abby needs to go potty (which she understands) she must bring out a toy with her and hold it in her mouth until she is done going number one. She can't pee without it. She loves to be touched, patted, massaged any type of physical contact and loves (for what ever reason) to pass between your legs. Abby will also let you know that she wants to eat by tapping her food can and then looks at her food bowl. She also loves to dig and bury her bones in the back yard (so much for my hostas) Abby is one of the few dogs that we have had that really has some personality. She is unique and we love her. I have some pictures of her on the computer, but I need help to send as an attachment, sorry. I will get that help and send them to you. Hope all is well and keep up the great breeding work that you are doing, she really is a gem.
Jeff Borger
---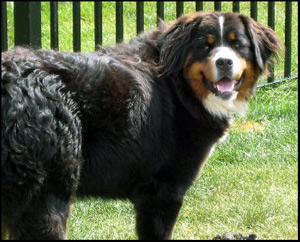 Hey Jill, Susan Carroll. Bella is wonderful!!! We love this girl!
---
Jill,Gracie is a wonderful dog! I think she is very happy and I know she feels very in charge of my other dog, Jake. Actually, they have a great time together. She's very affectionate, loves to play and can be quite the clown. I just wanted to let you know how she is and see how she's doing. Angie
---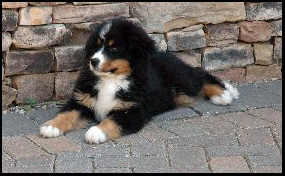 Cheyenne Camp 2 taken today and the other taken a while ago. All is well. Thanks. Taylor Camp
---
Hi Jill-It has been a while since our last email to you, but I wanted to let you know that Adin (now Morgan) is doing fine. She is a lovely girl and has the sweetest disposition of any dog I have ever met. We have finished Intermediate Obedience and she graduated w/ flying colors- not too bad, given she was just about the youngest in her class at 8 months!
I hope her siblings are doing as well as she is. We are anxious about the summer months & keeping her cool- she has her own wading pool now & has memorized where all of the A/C vents are in the floor. She is certainly a quick learner. Well, I guess that is it for now. We will send some more pictures later on, so you will know she is in a happy, loving home. Take care! Beth, Wil & Morgan!
---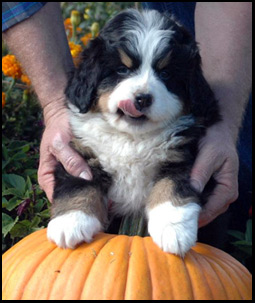 Hi, Jill! Patrick and I thought that you might enjoy some newer pictures of Bernie (Berne). He has been growing like a weed and is doing well. We are just finishing an 8-week training class and he was the class star! He loves romping in the snow (or leaves), playing with other dogs, and walks. We can't imagine what life was like without him. Anyway, we hope you and Alfred and all of the dogs are well. Take care, Katie, Patrick, and Bernie
---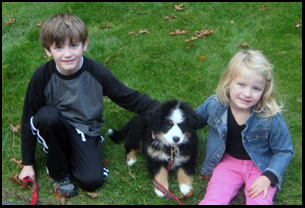 Hi Jill, Happy Thanksgiving! Dixie is doing great and growing like a weed. We have started her in a training program and she is doing quite well, the trainer loves her along with every one else... She is a showstopper! I can't believe we've had her for a almost a month. We had a little snow today and she liked it. She is sitting by a cozy fire now chewing on her bone. Life is good! Have a great Turkey day! Gail
---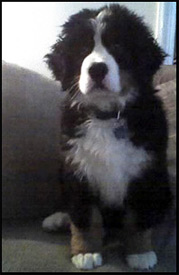 Hey Jill, As you can see he loves the couch. He already learned to come and sit. He is a brilliant puppy and getting bigger every day! Rick
---
Jill, Happy Thanksgiving! I hope all is well with you guys. I just wanted to drop you a line to let you know that Caden (we've re-named him Colby) is the absolute joy of our lives! He's such a love... I truly don't know how we ever got by without this little guy! His favorite things to do are taking walks in the woods and play with his big sister, Sonnet the boxer. We've already had snow a few times this season, and he has discovered that winter in Vermont is his favorite season... he's definitely dressed for it! I hope you were able to open the pictures that we've attached; I can't seem to stop taking pictures of that adorable face. We can't thank you enough for bringing Colby into our lives... he is the sweetest, happiest little puppy that we've ever seen (it seems as though he's always sporting a smile whenever I look at him). He starts puppy obedience class next week with a trainer that we've had and loved before... I can hardly wait until we're able to start training for the Good Citizenship test. I know we have awhile to wait... but he's going to make such a wonderful therapy dog--he absolutely adores ANYBODY he sees! Every time we're out and about, he's such a social butterfly from one person to the next. Again, thank you for the love of our lives! I hope you, Al and ALL of the pups have a wonderful Thanksgiving! Tarah (& Nathan) Miller
---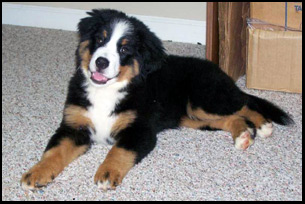 Hi Jill. Maya (Ady) is doing great and really growing. She weighs about 16 lbs. She's so smart. She knows how to sit and uses her special spot in the back yard for her potty. She's getting better about holding it until she goes out. She hasn't gotten to the point where she asks to go out yet. I can't wait for that. She had her shot at 9 weeks and was clear of worms. She goes next Monday again for her next shot. She's really become part of our family. We just love her! Thank you!!! Terri
---
Hello from my new home in Texas! I would have written sooner but I've been kind of busy, growing mostly. Carolyn and Craig are nice to me. Carolyn's my new favorite human ever since she got me out of the stupid box when I got here and held me and told me she was glad to see me. We drove home from the airport, and we put my crate in the same room with the rest of them -- we dogs have our own room! It's really cool. It's a sunroom between the living room and the backyard. The next morning we went to meet my new vet and he put a microchip in me. I guess they're serious about keeping me! The vet said I was pretty and healthy. (Well, duh, you took good care of me before you let Carolyn and Craig have me!) He's really nice. When I went back for my nine weeks shots (ouch) he gave me more compliments and told Carolyn that our chows are the best behaved of any chows he's ever treated. Oh wow, I guess I have something to live up to. I know I can be at least as good as chows! We've got a lot of dogs here – five more besides me. I've just about gotten them all sorted out. Let's see, the one closest to mom in size is Riley. I'm told he's a golden retriever, and I've noticed he's kind of jealous when Carolyn pets me. She tells him it's OK, she got me for him. Something about I'll be his size and more fun for playing than the chows are. Speaking of which, there are four. PT, Roxie, Reba, and Angel. PT is Roxie's father, and Roxie is Reba and Angel's mother. So that makes him a grandpa. They say his name is some hi-falutin' AKC thing – Chrisma's Prime Time in NY. So they think PT stands for Prime Time. Good thing I came along, because the very first day it was clear to me that PT means Play Toy. He lets me chew on him, and tug, and pull his mane, and all sorts of things. Carolyn and Craig put me out with him in the little yard usually, and the other dogs mostly go in a bigger yard. I can't wait until I'm big enough for that yard! Anyway, PT takes really good care of me and watches very closely when Carolyn brushes me to make sure she's treating me right. I guess he's adopted me as another grand dog. PT is 5, Roxie is 4, Riley is 2, Reba is almost 1, and Angel is 5 1/2 months. I'm having a lot of fun with all of them! By the way, I thought we were going to keep it a secret that you used to brush me, and hold me on your lap, and get me used to people and dogs. Jeez, by the end of the first day, Carolyn and Craig had figured out what a good job we did together – I heard them telling their friends. Oh, their friends – Le Anne and Louie. They came over to see me the day after I got here. Said something about how they couldn't wait to see their new god-dog. I was glad to see them – I could tell right away that Aunt Le will spoil me, since I know Craig and Carolyn won't. And then a few days later Carolyn gave me a bath, and once again, she discovered I'd been bathed before. I don't get it. How did she know? Well, I've got more sleeping to do (Craig and Carolyn are smart – they already know puppies grow when they sleep). I hope you like the pictures – I'll have them send more every so often. Take care! Love, Raven ~P.S. Can you send some pictures of Rain, Rose, Ryder, and River? Maybe with me, from before I left you? P.P.S. I got a new collar two days ago!!! It's big, like Riley's! Mine's green.
---
Thanks Jill. Here are a few pictures of her in our back yard (first day home).

---
Hi Jill and Alfred, I just wanted to update you on Mac (Nicholas). We just celebrated his first birthday and we could not be happier with him. He is absolutely wonderful. We took him for a check-up at the vet last week and he weighs 95 pounds. We take him with us everywhere we go and he is a huge hit with everyone that sees him. When we go for walks in town and at the lake, people always stop me to "ooh and aah" over him. He loves to go for rides in the Jeep with the top down. Sometimes we stop at McDonald's for a Quarter Pounder (his favorite special treat). We live on about 18 acres so he gets plenty of exercise running and playing with our other dog. He loves our cows and pygmy goats too. I have ordered a special set of "doggy steps" for our boat so he can go the lake with us this summer (he loves the water). We have had several dogs in the past that I have truly loved but I have never loved one as much as Mac. I have spoiled him completely rotten and he has stolen my heart. I have even been considering buying another Bernie. Thank you so much, Lisa Roberts Weaverville, NC
---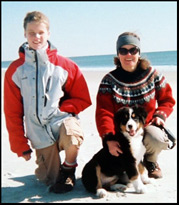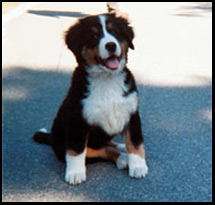 Hi Jill and Al, Just wanted to let you know that Tatum is doing fantastic....growing like a weed on steroids! She is a wonderful puppy and we get stopped everywhere we go with her. And she goes everywhere with us! For J, it's better than having a supermodel on his arm. I've attached some photos. They were taken while on a camping trip to Huntington Beach state park (SC) a couple of weeks ago. It was about 22 degrees our first night and J, Will and I had to snuggle up together to stay warm. But not Tatum; she was in heaven sprawled across our sleeping bags. She didn't even wake up when the raccoons invaded our campsite! (The little rascals ate my caramel corn, but when I heard them trying to make off with the Tupperware container full of dog food, I got up and shooed them off!). We're going on another camping trip this month and can't wait. Our "Tater Tot" loves it. Hope all is well with you.
Gretchen Mark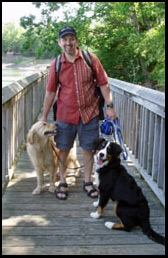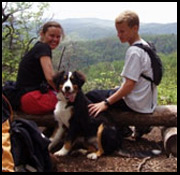 Hi Jill and Al, I just wanted to say hi and let you know that Tatum is doing great! She was spayed a couple of weeks ago and micro-chipped, which is when I sent in her AKC papers. She is growing like a weed and is definitely in that "awkward teenage stage"...her hips are higher than her shoulders right now. It's funny. We joined the dog park here in Charlotte and that is now her favorite place. She has lots of canine friends including a 5-month-old golden retriever that at this time looks like he will outgrow her! He's huge. We also have a neighbor with a golden retriever named Jake and he and Tatum are best buds. Tatum loves camping and hiking and we do that a lot, though soon she will need her own tent. Now that the weather is getting hot, we may be heading to the high country more and more. Tatum goes everywhere with us, and everywhere we go, she gets lots of attention. She IS gorgeous (I'm not biased at all!). We have sung the praises of Swiss Kiss Farm to a lot of people so you may get more calls from Charlotte. I hope y'all are doing well. Have a great summer! Gretchen W. Mark Charlotte, NC
Hi Jill and Al, Just wanted to give you an update on Tatum on her first birthday.....she is fabulous! THE most beautiful dog ever. I am attaching some pictures; we recently adopted another pup (rescue, this time) named Piper. We think he's part beagle, part Brittany spaniel. Tatum just thinks he's her personal chew toy. He doesn't seem to mind. They are great together. And we met Tatum's sister at the dog park! Different litter, same parents, Her name is Willa so I am assuming she's named after her mom. Anyway, hope all is well up in the mountains. We'll be up that way soon to get a Christmas tree. Take care and hope your holidays are wonderful. Gretchen W. Mark
---
Let me tell you, this little gal is almost ready for Harvard. She goes to the back door when she needs to potty. She climbs ladders. She just about has ear piercing down and she sleeps on her side of the bed that is the middle between John and me. All of this and she is not even 8 weeks old yet. In all honesty, Maddie really is smart. We have had almost no accidents in the house. Of course, we watch her pretty close and we have learned to interpret her actions, but she actually scratched on the back door to be let out earlier in the week. That wanting out may have been to chase a blowing leaf, but it matters not because she knows to potty when you take her out. John was outside taking down the Christmas lights with the big ladder and Maddie wasn't sure he could do it alone so up the ladder she went. She got to the 3rd rung before John realized that he had a helper. As you might imagine we are sure that's a real sign of intelligence. As for the ear piercing, She got scolded for that. John thought she was giving him kisses when one of her teeth accidentally dug into his ear. We are sure it was an accident (Maddie wouldn't do anything wrong on purpose). She sleeps with us and only gets up once in the night to be let out. I ran her into our vet to be introduced. They think she is precious and found her to be in excellent health. She weighed in at 10 pounds. That was on Monday the 9th. Her appetite is good. We have had to watch her on sneaking Caper's food. We feed them separately, but Caper is a little messy and there are always a few bites of Light Science Diet scattered near Caper's bowl. One day, Maddie found that the utility room was a real find. There was a small-unopened bag of Science Diet that we had on hand to take on trips. Maddie drug the bag in the living room, chewed a hole in the bag and did all of this in less than the 10 minutes it took John to talk to one of his hands. We are still feeding the Nutro as you recommended. She likes it and we are not willing to take any chances. Again, thank you so much for our little (soon to be big) treasure. She is a real joy and has adjusted to her new home very well. Caper (our Golden) is warming up to her but still exercises a little caution because of the pup's size. The cats are insulted that we have the nerve to bring something else home. Maddie is curious about the cats and doesn't know that they are not too interested in her. She noses them from time to time but they turn their back on her as if to tell that they are not the least bit afraid of her. Big Kitty swatted her on the nose the first day (no claws on the cat) but it didnt deter Maddie. She thinks everything is a game. I only wish for Maddie's brothers and sisters equal joy be had by their new owners. Carolyne and John
---
Yes, Max is up in our granddaughters tree house...Max, Papa and Cassidy (our granddaughter) were all out playing in the back yesterday...I am in the house, I get a phone call and my granddaughter is on the line (from the tree house) laughing her fanny off saying "Grammy, you won't believe it, but Max is in the tree house with us". Sure enough, he was. My husband thinks he is his new "son"!!!! We both love him to pieces...our whole family does. I work with him daily (well almost) on training. He is very smart (but at times he tries me/us...and shows his stubborn side). So far we think we will keep him!!!! OK, hope you enjoy these pics of our boy. We sure love him. Best Wishes and Sweet Blessings, Linda.
---
Jill: We had a great weekend in NC, visiting with our friends and enjoying Maggie. I have to tell you she created quite a sensation at Blowing Rock on Saturday afternoon I was constantly surrounded by people wanting to know where she came from. We referred two people to you. Don't know if they will contact you, but they sure liked Maggie. We drove all the way home on Sunday (about 800 miles). Needless to say, we were tired, but the puppy was a great traveler. She has settled in nicely, and is enjoying her new best friend Jack, a 3-month-old Golden Retriever. They will be great pals. Please tell Alfred hello. We enjoyed meeting him. I will send a picture as soon as I can figure out how to get the picture from my camera to the computer.Bill and Dixie
---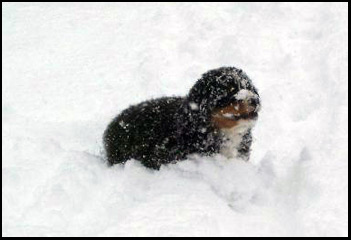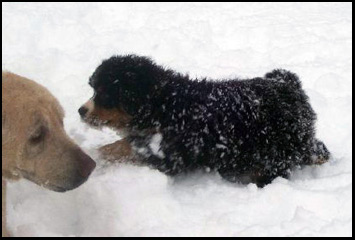 Hi Jill...He is here and he is soooo beautiful and such a wonderful temperament! His pics didn't do him justice! I'll get back to you!! Thanks again...Shannon
---
Hi Jill and Alfred: I just wanted to share some updated photos with you of Shana (aka Xandy). These were taken this morning on my phone before I went to work. She is so big now with such an amazing personality - I can't believe she's already 16 months old. I just love spending time with her. She absolutely adores my other dog Kobe and they are the best of friends. Shana loves going on long walks and hikes and loves playing in the water. She hasn't gone in the pool yet but she's come close. She will run through the sprinklers on a hot day and just jump around like a jackrabbit talking to herself and letting everyone know just how much fun she is having. Shana loves her squeaky toys and takes them with her around the house. Shana loves the car and is a wonderful little passenger. At night, her favorite thing to do is hop on the bed next to me and then she flops over on her back with her legs sprawled in the air with utter contentment. When I pet her or curl up next to her she just showers me with kisses and wags her tail. I hope you both are doing well. Thanks again for such a wonderful companion. I honestly can't imagine my life without Shana in it. Heather Hauck
---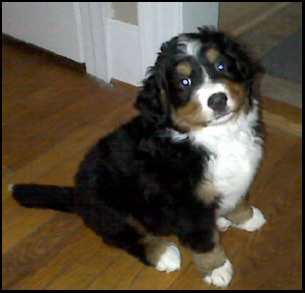 Hi Jill, Things are going well with our new addition! She's eating well and finally sleeping through the night. She's very smart and already knows sit, stay and down. We named her Willow because her little spirit is so soft and sweet. Our cat Nadia is finally taking more interest in her, which is fun to watch. :o) Willow loves riding in the car but mostly because it rocks her to sleep. She's funny to watch run around and play outside but she's not yet at the point where she'll play outside without "mom or dad" there to watch. :o) She stays by my side all the time and she's doing well with housebreaking. Her little bladder doesn't hold much liquid for long but I can tell she's trying. I am sure she'll get it soon. She had her first play date with my girlfriends Teacup Yorkie last Sunday. She warmed up to her 2lb terror named Frida in no time! Lol... she has a play date this Saturday with my other girlfriends Weiner dog Trixie. She loves playing with my friends pets and it's the only time she seems to feel OK running away from me to play. Her first vet appt is Tuesday but we took a field trip there this week so she could meet all the ladies in the front office and get used to the smells. She's grown a lot since I brought her home. I don't know how much longer I will be able to carry her around. I've attached a few pics of Willow for you and Alfred. Thanks! Tiff
---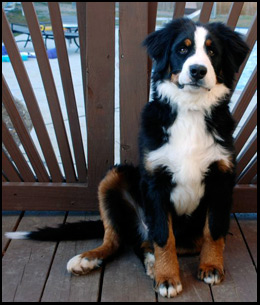 Hey Jill and Alfred- Thought I would send you some updated pictures of Molly (Gracie and Fynn's pup). She is almost 6 months old! She is so smart and wonderful, and thinks that she's a lap dog! :)She is truly more wonderful than I could have ever imagined. She is with me every minute of the day. We have lots of fun at work...I tell her in the mornings it's time to go to work and she runs and jumps up in the car. She recently took her first trip to the French Broad River; she played in the river and ran on the rocks. She had the time of her life. John (husband pictured with said lap dog) and I look at the website all the time, because we can REALLY see the resemblance between her and Mr. Fynn! What's your waiting period looking like for another pup...I think Molly wants a sister!!
Best Wishes and all my thanks, Tracy Garlinghouse
---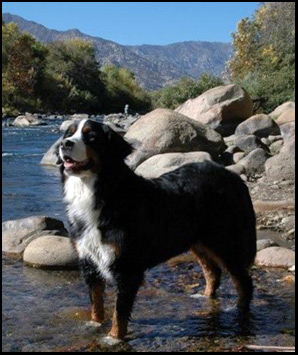 Hi Jill, I hope these photos get to you. I am not very good at this. These are photos of Gracie and our kitten and Gracie. Last week we took Gracie to an all-Swiss match, and on her first try Gracie got her CGC certificate. The judge said she was the best in the class. We are working on her obedience and someday we might try for her obedience title. I hope things are going well for you. Take care, Jerry
---
Hey Jill, we hope that you and your family have a very Merry Christmas. Here is a picture of Elvis at 6months old.(and 83lbs).He is a great dog. He plays with all of the kids in the neighborhood. He is a big lap dog. We think he is so handsome and we can't wait until he matures. Again Happy Holidays. The Tapps.
---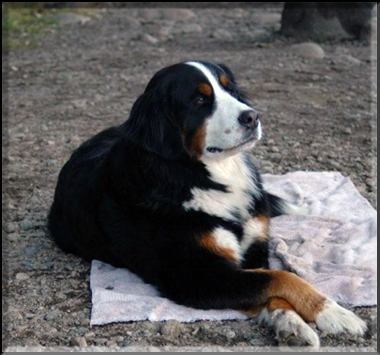 Hi Jill, I am sorry haven't written you sooner. Things have been a little hectic around here. I had a brush fire that completely surrounded the house and burned up a couple of things. Everything is O.K.. Gracie and Molly are fine. I was supposed to be deployed to Louisiana and then I got sick and could not go. But enough of the little excuses, Gracie is fantastic. What a great pup. I absolutely love her personality. She is one of the smartest dogs I have ever owned. She catches on to everything. She does, sit, down, sit stay, come, heel on lead, sit at stop, come to heel, speak, shake, play dead, and pee on command. I love this pup! Any hoots, I will try to send you some photos. She is absolutely adorable. I hope things are going well with you. Thank you for selling me Gracie, I really love her. Take care, Jerry Updegraft
---
Hi Jill, Just want to drop a line and tell you that Willow is getting so big, we just love her so much, she is of now house broken at only 4 mouth my girlfriend got a dog about 2 month before we had gotten Willow, and her dog was not house broken till she was 8 month old and she still has accident in the house, but Willow has been doing so great with it and she know how to sit the second day we had her she is a great addition to the family and she is so smart. We will be back for another one god for bid when something happens to one of my golden's, hopefully you will still be breading dogs till then you and you're husband do such a great job at breading and keeping in touch with the people that are buying dogs from you, I just want to say many, many thanks for Willow.
---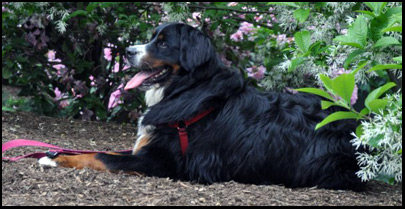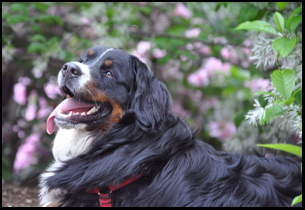 Jill, Abby and I have been very busy. I can't remember anytime that we have not been together; it's fantastic. And talk about meeting people! She is a magnet. Everybody loves her. Well all except one guy at a restaurant the other night. He actually kicked her as we were walking by. People were so upset he was forced to leave. She was okay although I took her to the E.R. as she was injured. She was not doing a damn thing, nothing. She was calmly walking by my side. As I screamed at him he answered they he was scared of dogs. Scared? Hell she was 21 lbs. But we did the beach, we do malls we do everything. And it is so funny because anywhere we go somewhere people always say "Hi Abby". It's a small town ha ha. We were at the vets today for round 2 of shots and stuff. She looked fine to Dr. Peterson and we are in again in another few weeks for round 3 of shots or something. She has reached 25lbs. The tech and I had a "ice cream bet" on weight. She won... I love this girl for a few other reasons Jill. She is helping me so much. And we walked the mall today. She walked the entire mall without stopping to lie down or stop to talk to people until I released her to do it. And when I did ... the socialite again. We start classes tomorrow.... They will teach me how to house train her; she is. John
Dear Jill, I have a whole new respect for moms who have those babies while they are out... wherever they go. The kids are a blessing and a curse at the same time. No wonder... But she and I have gone everywhere together. Abby was initially hesitant to enter stores, restaurants, places like that. Now, like the princess. And she is treated like one; completely fawned over where ever we go. The socialization... what would have taken me a minute now takes an hour! We both love it. Her training has been going exceptional well. You were right Jill she is so sharp; quick to grasp and please. In a week she is pretty much house trained already. It took that week of taking her out with every reason but now she lets me know she wants, needs to. And she will wait until we are out of the store, mall, or restaurant. Last night I took her to an up scale restaurant. As soon as we were seated she took her place and didn't flinch for an hour. People are amazed that she is that smart for such a young girl. And people are amazed at everything about her. She even refuses to go in if she feels the need to toilet; fantastic. There is a woman in the grocery that slabs Prime Rib for her and I dice it as her treat/reward. That certainly helps. She is growing too. The elevated feeder I have; she was to short for it .... 10 days ago. One other thing, I had her to the Vet this week. Dr Peterson has large breed dogs herself and a great rep. She likes Abby very much and feels that she is all that you and I hoped. And it is time to take her out. Thank you,…John P.S. we do a little too much. Yesterday I had to carry her through the mall to the car. She was ... tired. It drew a few laughs but it was ...painful, just too much.
---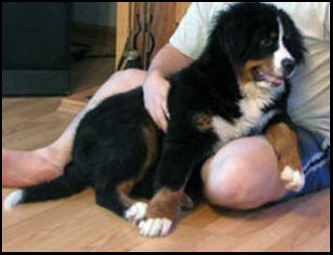 Hi Jill! Just thought I would let you know "Ben" is doing great. He is getting to be a big boy now…close to 70 pounds and full of energy. His teeth are coming through well…and he is getting better about the nibbling thing he was doing. We now have lots of snow, and he is enjoying every snowflake! He is a great puppy, and has beautiful color and markings, and a loving demeanor. Thanks again, here is a recent pic of him for an update for you …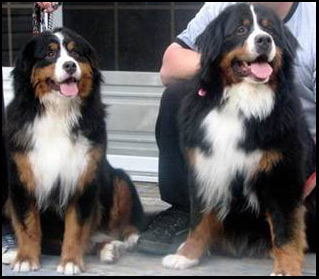 Hello once again from the Green Family. In the past we purchased two dogs from you Ben & Heidi as we called them. We are very happy with them and they both turned out to be gorgeous examples of the breed in our opinion. We just thought we would send you a picture of the two of them. Ben is from Held and Szophie; Heidi is from Ivan and Nina. Thank you so much for both of these pups, they are both incredible dogs. Sheila Green
---
Oh, he is doing GREAT! So much energy, wow. But we are all settling into a routine. He is sleeping really well, I keep him next to the bed on his blanket with only enough room to sleep-as if in a crate. That way he lets me know if he has to go outside. He has been waking me up once each night. Housebreaking is going well, he is actually going by the back door sometimes when he has to go out. Smart boy! When he wakes up in the morning and has had breakfast, the fun begins. He has so much energy I wake up early so there is enough time for everyone before school. He goes with me to drive the kids to school-he loves car rides-sleeps like a baby much of the time. He also likes the backyard he enjoys just going out to explore or lay down-it is fenced in. I am a bit worried about my garden however. Unlike Hansel he is VERY interested in the plants. This summer should be interesting! He seems very happy and adjusted. Really amazing when I think it hasn't even been a week. He weighed 22 lbs on Monday-took him to the vet, had to show him off!!! He was a big hit at Kylie's 6th grade classroom. I just don't take him for walks or have him around other dogs until he has all of his shots. One change is that he eats 3 not 4 times a day. I have offered him more each feeding just that he and I are both sleeping at midnight. Oh, and he is a chewer...we have lots of chew bones and toys for those teeth...I remember this phase. It's all coming back to me. I just received the packet from you, thank you so much for the photos. We have taken several, I just haven't figured out how to put them on my computer and email them. One of these days but until then I will have them developed and mail them off-probably this weekend. He is a beautiful, loving dog, thank you so much. The kid's keep saying how much joy he has brought into our home. All the best, Tracie
---
Hi Jill - Nice to hear from you! Yes, Ashbury is huge & beautiful! Not exactly sure how much he weighs now, but my guess is around 85 pds....he's 8 months today too! He is challenging now b/c of his puppy behavior matched w/ his big size, but I've been working w/ a new trainer that has helped. When do you find they mellow out? I'm still bringing him to work everyday & he already has a following - pp come in just to see him! I will send a picture shortly. Take care, Dulcie
---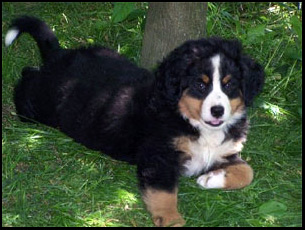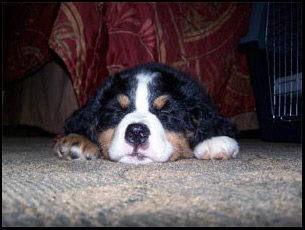 Here's the latest Bella pics. She's up to about 20 lbs now. She's a feisty little girl & holds her own in tug-of-war with Journey, our male. They are pretty much inseparable when they're out together, so we watch them closely to make sure they don't play too rough. Despite her size, Bella puts Journey on his back quite often in their wrestling, but he seems to enjoy letting her win :) Bella is hardly still for a moment and loves to run. We're building a new barn & she & Journey love to climb to the very top of our dirt piles. Thank you for this sweet little bundle of energy. Jamie
---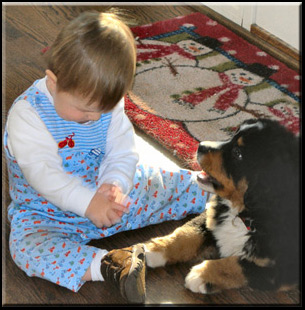 Lucas is doing great. We love him! He stays with us almost all of the time; he likes to be right under my feet! He is great with all three of our boys. He likes to play soccer and run around with my older boys and he seems to know to be gentle with my 15 month old. He is playful and then laid back when he needs to be. We couldn't have created a more perfect dog for our family. I will send you pictures when we have time to download them. Take care, Serina
---
Jill, hope all is well up in Spruce Pine. Xia seems to be fitting into to our household. The kids love her and play with her quite a bit. By the evening, she is worn out. It's great to have a Berner back in our home! Thanks again! Mark Bass
---
I just wanted to let you know that Libby is doing great. She has lost all her baby fuzz and has gotten very long and lean. She just had a bath so I will try to take some new pictures of her to send to you before she gets dirty again. She now has a little wave to her coat. Quite the young lady! Jennifer
---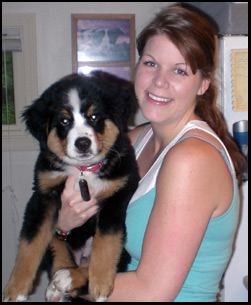 Hi, I just wanted to send you a pic of the pup. This is him at 14 weeks (two weeks ago). He's growing so much and doing just wonderfully and can already do so many tricks. He's got many, many friends furry and not :)! I tell everyone about you guys and how great your pups are and what an outstanding job you've done. Once I get some more recent ones I'll send them too. This one doesn't quite capture his cheesiness in front of the camera... haha.. he poses. He loves everyone and brings smiles to each person he crosses and especially to our home. He is amazing. Thank you so much! Sara and Tony
ps- how much do his mom and dad weigh?
---
Dear Jill: Just a note to tell you how wonderful Molly is doing, She is getting big, over 50 pounds. She is a very special dog and so loving. We have been on vacation for a week in the Bahamas and our daughter had her during that time. She goes to puppy training once a week and really is learning to behave. She is house broken and goes in the yard without accidents inside, Molly is loving and just so lively. I will send photos soon, Many thanks for giving us such a delightful friend for life, Margie and Jack
---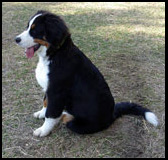 Just wanted to let you know that Trace is doing just great!! He's doing sit-sit pretty-down-paw-still working with the stay-He's wicked smart! Still working with the potty training but that's coming along and we've started on the crate training as well... He's up to 25 lbs now and a big ball of fluff. Each time you see his beautiful face, you have to fall in love again! He's terrific! He's getting socialized with people and dogs...getting a little more independent each day. He just loves his little training sessions each day! He just loves the snow and has a great time burying his nose in it each time we go out. We've been having quite a cold spell around here but doesn't seem to bother him to go out into it....Thanks again, Doris
Here's a picture of Trace....our first snow and still snowing here on Thanksgiving day and he is having a blast! He's doing well.....I took him to the vet and had him weighed Saturday and he weighs 92.2 lbs! He's doing great!!! Turned a year old on the 15th! He goes horseback riding with us and is doing great. He hangs with us and scouts ahead for us. The horses don't mind his coming along at all. In fact I think they look forward to having him with us!! He's just wonderful!! Quick learner and is doing great in all aspects!! Have a Happy Thanksgiving!!
---
Just a note to let you know "Tramp" is doing great. He's gaining weight, enjoying his mate, "lady" and learning a lot from watching how she acts. Already he comes and sits when i call him. Hoping that there will be a treat. Sometimes yes and sometimes just a little praise and rub on the head or neck. Will send pictures as soon as i can get our daughter to take them and download or what ever you do. You can tell we are not into technical stuff. Gene Laprade
---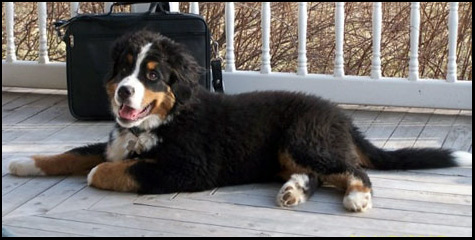 Jill--Marley (that's what we decided to name him) made it to Nebraska. He is so ADORABLE!! He seemed a little nervous when we first got him out of the kennel, but we took him to a park across the street from the airport and then he warmed right up. He's such a happy puppy!! He's getting along well with Jain, our lab. Our cat, Jasper, isn't quite sure what to think about him, but I'm sure he'll warm up with time!! He didn't eat a lot last night, or this morning. I mixed the food with some milk replacer, is that what you were doing? He drank the milk, but would only eat the food if I fed it to him by hand one at a time!! Trent is home with him today and tomorrow and then I will be home Monday and maybe Tuesday. We have a HUGE kennel for him in our bedroom and he slept there last night. He did really well. He cried a little when we first put him in there, but not for very long and then he was good until about 5:00 this morning!! We got up and let him out and then put him back to bed. He cried a little more, but again, fell asleep in no time! He is so beautiful and so much fun - very playful!! We love him to pieces! Thanks so much for sending him yesterday, that worked out perfect. Have a nice week and I will talk to you soon! I will send pictures as soon as I can. Sarah Amstuz
---
Inside those red stools is one of his favorite places - he inevitably chases balls in there and gets more and more confused every time that he is a little bigger and can't scoot out as easily. The second picture is post-puppy play date with the dog of some good friends. The other dog wasn't as interested in playing as she was interested in surveying the tennis court, but Dibs had a great time galloping after her the whole time. Hope you're doing well! Gabriela
---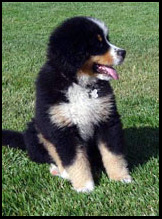 Good evening Jill, Atticus is doing well. He's energetic, seems happy, and loves his people. He loves his walks every day. He's growing and so are his poops J. He is being trained in a few basics and responding very nicely. Sitting often but not consistently, though he does especially well with the treats or hugs and pets as rewards. Currently he will sit before he is let through doors in or out, and so on. He's working on the leash very well and smiles while on our walks. He sometimes gets a little distracted by the noises of other people and dogs and cars but doesn't seem to be afraid or become startled easily. He's never shown any aggression and is a good puppy, love his hugs and pets. He tends to over play with our Daughter Ryan (2 ½) and we are trying to teach her how to keep him from jumping on her or nibbling but she is shy in telling him to get down. Actually she turns away and runs, which she doesn't understand is a game to him. He still has his puppy nibbles as greetings and is slowly but inconstantly responding to those no's. Patience, and positive adjustments are what he gets from us and it gets the best results. He loves to please us. His first week or so was a little tough on him as he adjusted to our routines. His crate training is going well and now walks into the crate at night by himself. The only thing missing on him are thumbs, otherwise he does his best to act like he has hands when he uses those big furry paws. He gets his meals, the FRR foods and usually has plenty of veggies or fruits mixed in. Usually one meal a day still includes the unimilk. He is lean but strong. I'm seeing his face change, as he seems to grow each day. Everyone who sees him can't resist his charm and good looks, wanting to pet him in exchange for kisses (his kisses). One of the Vet's assistants asked me a ton of questions about him and where we got him since she's wants one. Actually she wants a Swiss Mountain Dog. We couldn't be more pleased with our new family member! Attached a couple of pictures I took this afternoon. Joe Steed
---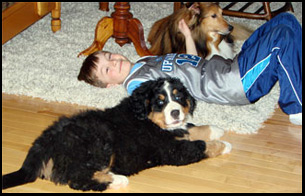 We really appreciate everything! He is so awesome, way over our expectations. We will definitely be calling you when our 11yr. Old is gone for another great puppy! THANKS SO MUCH THE RUSSELL FAMILY (P.S. Thanks again for all your hard work it shows! I would highly recommend you to anyone!)
---
Shamrock (Pink) is doing very well! She has a great disposition! Every day she is growing and changing. She is getting a great deal of attention from everyone who sees her. They want to know where we got her. The pictures of her mom and pop look great! I will send pictures soon. Thanks so much! The Groves
---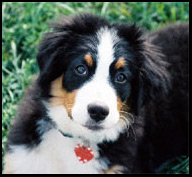 Hi Jill, Here is a new picture of Jazzmyn, taken a few weeks ago, she is doing great! Ball of energy! Growing like a weed. We sure love her. Kim (in New York)
---
Thanks SO much for answering our questions and helping us out. Little Abbey went to the vet yesterday and she did very well. She's sleeping better at night as she is getting use to her crate and we are all thankful for that. I'll send some more pics soon as she grows. Talk to you soon, Jon and Beth
---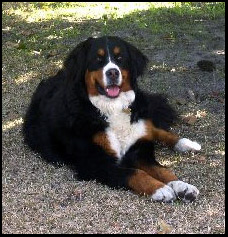 Jill: Yesterday was Toby's birthday. Thought I'd send you a few picture to see how's he's grown up. He's doing very well. Hope all is well with you. Bill Mangano
---
She weighs 5 lbs more than Cooper did at the same age of 9 weeks. (16,5 lbs) Are all your puppies so chubby? Her favorite place to take a nap is next to the feeding dish! :)She seems content outside in the pen. Has she spent much time outside? Has she spent much time crated, aside from the plane trip to Long Island? A very happy puppy and almost fearless of Cooper. She will quite possibly be alpha. He is already letting her take his food, his toys, etc. He will move away from the water dish to let her drink. He is so gentle; even lets her poke him with her nose and sniff his mouth, then climb all over him. Beautiful fat pup!
---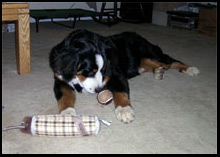 These are the most recent pictures of Gracie and Molly. Gracie is doing great. I love her too much. She has the most entertaining personality. I love everything about her. Everyone that meets her absolutely loves her. Jerry Updegraft
---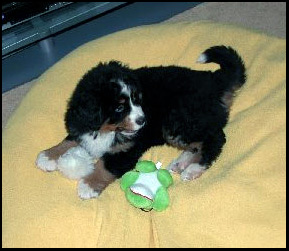 He arrived in great shape and when we walked into the freight office the crate was there and he barked saying let me out. Took him to the car and while I was signing my wife put him in the back of the car. She then took him out for a little stroll and when she closed the lift door it locked the car with the keys inside so we had to call AAA who was there in 15 minutes. He is a real cutie and could not be friendlier or more energetic. He has pottied a couple of times and we're starting on the house breaking and bite the toy not the furniture or people. He is a true delight and follows us everywhere so I am sure all is going to be fine.
---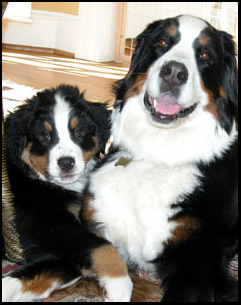 Hey Jill,I had to order some more food,(Zeus loved the lamb!) and I thought I'd send out a quick hi to let you know that all is well. He has gotten very leggy and is solid, about 35 lbs. Clio is enjoying her playmate but I think he gets the better of her most times. She is pretty easy going so she gives in when he's near the toys, treats etc. He's learned to sit, lie down, wait and come, well most of the time. We took the two of them to Pet Smart today and they were like celebrities. Everyone had to pet them and ask about them. They loved every minute of it! Of course they came home with some little toys and treats. I guess you can tell we are really enjoying our little guy. He is very loving and likes to cozy up on the floor after he's done for the day. We'd love to hear from you sometime. I will pass along more pics soon. Take care, Sheryl
---
Jill and Alfred: Where do I begin......Jackszon is an absolute joy!!! It has only been 3 days but we are head over heels in love with him. Cannot get enough of him!! He did great on the trip down to Charlotte after we picked him up on Thursday and then home to Richmond on Friday....even let us know by whining when we needed to make a stop. He is very excited about the kitty, but the kitty being 21 years old, is not as excited about him! Although he is not intimidated by Jackszon in the least, even when I caught Jackszon trying to pull him away from his water bowl by the tail!! We have had tons of company this weekend and everyone has just fallen in love with him.....he is soooo cute, how could you not!! He has done very well with everyone he has met, including all the other dogs in the neighborhood. There are several dogs of all sizes in the neighborhood and they all get together outside to play.....he is definitely the hit of the neighborhood!!! Thank you so much for all of your help and support since October, he was definitely worth the wait. I am sure I will be in touch in the months to come with questions and we are already talking about another puppy in the next year or so...we will definitely be in touch then. I do have a question now.....I was reading the info again that you sent us a few weeks ago. Do you actually feed the puppies fresh fruit? Just want to verify that before we try to give him apples!! By the way, he is eating great....we will probably stick with the Flint River rather than changing him to anything else. Again, thank you...I am sure we will be in touch soon. Tina & Ron Brooks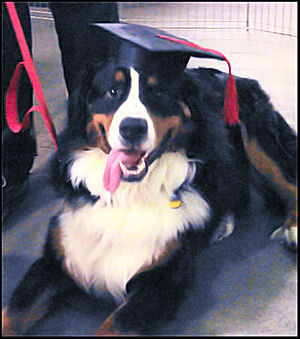 Jill & Alfred: I am attaching a photo of Jackszon taken last night when he graduated from his Beginner class. Isn't he a handsome fellow??? He is sooooo smart, most of the time!! He is doing great and we are just crazy about him. He is up to about 70 lbs now @ not quite 7 months....it just blows my mind how quickly he grows. He is very well socialized at this point. We take him with us whenever possible to events where there will be many people and other animals....he does great and everyone just loves him. You don't see many Berners around here so he gets LOTS of attention!! We had him at Bark in the Park on Saturday and saw the first Berner we have seen since getting him. Hope all is well with you and you are enjoying a beautiful fall in the mountains. Tina & Ron Brooks Richmond, VA
---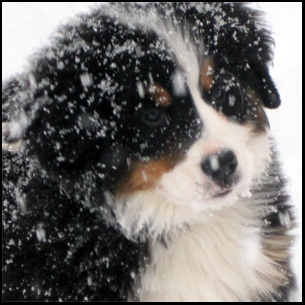 Jill – We have been snowed out of work for a week and it has been AMAZING! Normally it is amazing just because we were missing work (hehe!), but this was extra special because of our sweet girl! Riley (aka Fantasia) is simply the sweetest little thing we have ever seen. Her disposition is incredible. She is so playful, sweet and friendly to all (people and other dogs). She literally stops traffic when we are out with her. People take pictures of her (one was taken yesterday for our community newsletter even – she is a STAR!), they cross the street to see her and pet her and everyone stops! She is AWESOME! She LOVES the snow and is having a blast in it (and then sleeps because she gets worn out, the snow is taller than she is so she does a lot of bounding, it is really cute). I have some pictures at home that I will send this weekend for you. She is getting bigger and cuter everyday. We just love her so much. Thanks for everything and hope you all are well! Thanks, Matt and Dorsey
---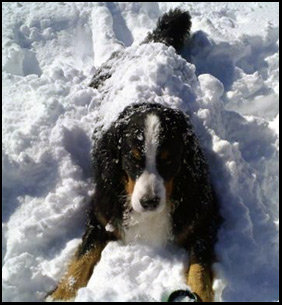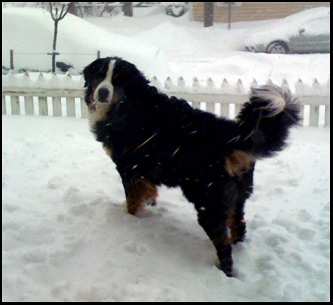 Jill, I posted a bunch of pictures on Facebook of Hogan at the beach in FL over Christmas (as you can tell, he didn't go anywhere near the water :) and also from the Snowpocalypse up here in the DC area recently, but I just wanted to send you a couple of my favorites. I hope you are doing well, Sara
---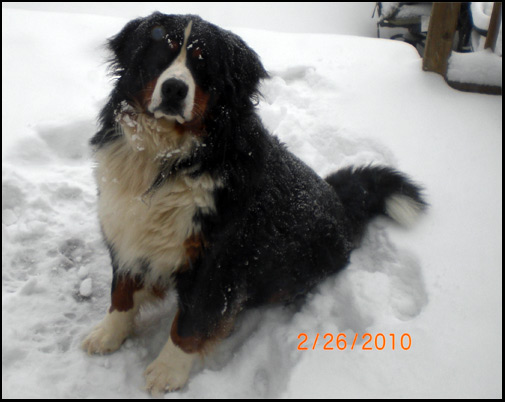 Hi Jill! Sorry its been so long since I've written or sent pictures of Huck. It's been a very busy winter and we have been hit hard by snow for the last few months, which Huck and Shelby love! Huck is doing spectacular! he is my baby! He's so sweet and charming. He is getting big- finally growing to his monster paws! He weighs 124lbs, still the fastest Berner I've ever seen too! As for snow, he is in heaven! He runs through, snowplows, rolls, I can hardly get him inside! And Shelby and Huck are inseparable! Thank you so much for him! Here are some pictures from the last few months! Mare, Shelby and Huck!
---
Hello Jill and Alfred, Griffen is doing fantastic!! He is so sweet and well behaved. The ride home was so smooth, no crying from him at all. Every time we stopped for a break he went to the bathroom right away. But I had to stop using the command squat because I think he thought I was saying Scout and he would perk up his ears and frantically look around and cry. It was sad enough to break your heart. For two days he would whimper with just about anything he did, eating, playing, and laying. He is much better now, no longer whimpering except when he wants to go out at night. Our stay in the hotel was just as nice. No crying, just wanted to snuggle up and go to sleep. Adjusting to home here seemed easy for him, He gets up every three hours at night to go out. James and I are taking the nights in shifts. He comes when called about 90% of the time, and is easily enticed by a treat the other times. THIS LITTLE GUY IS SMART!! You must have done some training with him or he got used to hearing some commands because on the first night he slept next to my bed on the floor and when he would sit up and whine I would lean over and say "lay down" and he would. And he still does. He also responds to leave it about 50% of the time. We are still working on the crate, never like him to cry in it so we have just been feeding him in it and leaving the door open. When he sleeps he will wander in there. Porter our Beagle was grumpy for about two days, very on edge and snappy. Only would let Griffen near him if they were on a walk. But now they go out back and run around together, it still makes me nervous though and I am always right there. The kids love him too. We love Griffen, and think he is the best dog ever!! I am sending some pictures I took the first day he was here. Of course he has grown so much already. Thanks again for such a great puppy. Tara P.S. he can sit on command too.
---
Diesel is doing great! He's really growing! He's doing very well with crate training. He will let us know when he needs to go.Pretty good at this age! He has already learned to fetch and knows not to jump on us. He has the best personality and wants to be right by our side.We have ordered a doggy door for him and will be glad when it is installed. Take care, will send you photos soon, as soon as the wind stops blowing! Margaret and Tom
---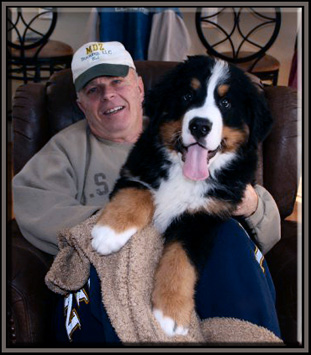 Yes, Digby's a character...very funny. He is eating great and last night even slept for about 4-1/2 hours at night...that was great. We put him in a kennel in our room, but we lay on the floor next to the cage until he goes to sleep....he seems to like that. Today he discovered his toys and loves this duck we got him. He carries it around in his mouth and loves to hear it squeak. He loves it outside in our yard, but we have to watch him. We have a rock walk way and he seems to want to eat the rocks for some odd reason. He wants to chew on everything...leaves, sticks, bark....and rocks. I hope he stops that pretty soon. I don't think he's eaten any, but I've sure taken a few out of his mouth. We had some neighbors come over to meet him and he did great with them. We had some pictures taken for a Christmas card with him in it. I took the pictures to Walgreen's to get developed and everyone in the store wanted to know what kind of dog he was...they thought he was the cutest dog they had ever seen...I agree. He will go to Pet smart Saturday to get a picture with Santa, and on Monday he goes to the vet. We are very much in love with him already and wouldn't trade him for any little girl. Thanks for our little tank....Take care Rae
---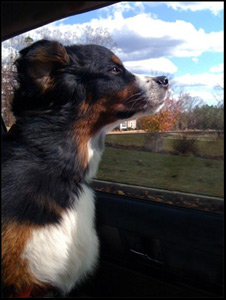 Hey Jill, I hope all is well in NC! I just wanted to send you an email since it's been a while. March 6 made one year that I have had Scout and I just wanted to again say a big Thank You to you and all your dedication and helpfulness! I have enjoyed every moment with Scout and having him, as a part of my family has been a true joy. I get compliments on him everywhere I go and he enjoys meeting new people and showing off his tricks. He recently learned how to wave, bow, "touch" (target training) and crawl. Crawling is a bit difficult since he is so big, but he does give a good effort. We weighed him on February 24 and he is up to 105 lbs, so I think he has caught up =) I've attached a few recent pictures for you including one from when he was about 11 weeks with his octopus that smelled like Gracie and his littermates. He still has the octopus but is no longer allowed to play with it because he put a hole in the top and I don't want it destroyed =) Once again, I just want you to know how grateful I am to you for giving me the opportunity to love the most amazing dog in the world! Katie Willis
---

Hi Jill & Alfred, We wanted to share with you recent pictures of our happy little boy Fudge (Macon). He has truly brightened our world and we wanted you to know that you did a fantastic job and we could not be happier! Such a well balanced, very confident and intelligent boy, he has adjusted without any problems in fact he walks around here like he owns the place LOL. Stephanie & Ben-Asheville, NC
---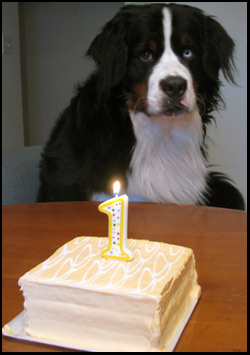 Hi Jill, Baba just had his big #1, full of hikes, presents, and (most importantly) cake! Couldn't quite get him to blow out his candle though. Hope you and your family are well. I'm sure you "kids" enjoyed all the snow this year. Craig
---
---