---
Here is beautiful Scout....it's almost her second birthday and I thought you might like to see a photo of her! She is the smartest and most wonderful dog.

Libby Byrum
---
Here's the latest Bella pics. She's up to about 20 lbs now. She's a feisty little girl & holds her own in tug-of-war with Journey, our male. They are pretty much inseparable when they're out together, so we watch them closely to make sure they don't play too rough. Despite her size, Bella puts Journey on his back quite often in their wrestling, but he seems to enjoy letting her win :) Bella is hardly still for a moment and loves to run. We're building a new barn & she & Journey love to climb to the very top of our dirt piles. Thank you for this sweet little bundle of energy.

Jamie
---
Good evening Jill,

Atticus is doing well. He's energetic, seems happy, and loves his people. He loves his walks every day. He's growing and so are his poops J. He is being trained in a few basics and responding very nicely. Sitting often but not consistently, though he does especially well with the treats or hugs and pets as rewards. Currently he will sit before he is let through doors in or out, and so on. He's working on the leash very well and smiles while on our walks. He sometimes gets a little distracted by the noises of other people and dogs and cars but doesn't seem to be afraid or become startled easily.

He's never shown any aggression and is a good puppy, love his hugs and pets. He tends to over play with our Daughter Ryan (2 ½) and we are trying to teach her how to keep him from jumping on her or nibbling but she is shy in telling him to get down. Actually she turns away and runs, which she doesn't understand is a game to him. He still has his puppy nibbles as greetings and is slowly but inconstantly responding to those no's. Patience, and positive adjustments are what he gets from us and it gets the best results. He loves to please us.

His first week or so was a little tough on him as he adjusted to our routines. His crate training is going well and now walks into the crate at night by himself. The only thing missing on him are thumbs, otherwise he does his best to act like he has hands when he uses those big furry paws.
He gets his meals, the FRR foods and usually has plenty of veggies or fruits mixed in. Usually one meal a day still includes the unimilk. He is lean but strong. I'm seeing his face change, as he seems to grow each day. Everyone who sees him can't resist his charm and good looks, wanting to pet him in exchange for kisses (his kisses). One of the Vet's assistants asked me a ton of questions about him and where we got him since she's wants one. Actually she wants a Swiss Mountain Dog.
We couldn't be more pleased with our new family member! Attached a couple of pictures I took this afternoon.
Joe Steed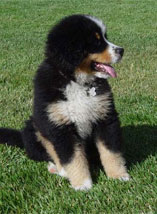 ---
| | |
| --- | --- |
| Here's some updated pictures of Trace! He's doing so well and he's so smart!! He's due for neutering on the 31st of this month. He obeys most of the time. Close to 98% of the time!! lol We are still working with distractions! He's just a joy to have around!! Very very smart! I'll be working a little with him this summer on carting! I think he'll enjoy that!! He won't let me pick him up anymore to weigh him so guess we'll have to wait until we go to the vets! I got him a swimming pool for kids and he just loves the water! He'll jump in and out and paw at a ball while he is in there. Loves to splash around. Throws himself down in it.....just loves it!! Just terrific personality! Loves people and other animals and lots of attention (my fault, I'm sure) lol.....he's a happy puppy!!!! Have a good day!! | |
---
Hi Jill and Al,

I just wanted to say hi and let you know that Tatum is doing great! She was spayed a couple of weeks ago and micro-chipped, which is when I sent in her AKC papers. She is growing like a weed and is definitely in that "awkward teenage stage"...her hips are higher than her shoulders right now. It's funny. We joined the dog park here in Charlotte and that is now her favorite place. She has lots of canine friends including a 5 month old golden retriever that at this time looks like he will outgrow her! He's huge. We also have a neighbor with a golden retriever named Jake and he and Tatum are best buds. Tatum loves camping and hiking and we do that a lot, though soon she will need her own tent. Now that the weather is getting hot, we may be heading to the high country more and more. Tatum goes everywhere with us, and everywhere we go, she gets lots of attention. She IS gorgeous (I'm not biased at all!). We have sung the praises of Swiss Kiss Farm to a lot of people so you may get more calls from Charlotte.

I hope y'all are doing well. Have a great summer!

Gretchen W. Mark
Charlotte, NC
---
Jill and Alfred:

Where do I begin......Jackszon is an absolute joy!!! It has only been 3 days but we are head over heels in love with him. Can not get enough of him!! He did great on the trip down to Charlotte after we picked him up on Thursday and then home to Richmond on Friday....even let us know by whining when we needed to make a stop. He is very excited about the kitty, but the kitty being 21 years old is not as excited about him, although he is not itimidated by Jackszon in the least, even when I caught Jackszon trying to pull him away from his water bowl by the tail!! We have had tons of company this weekend and everyone has just fallen in love with him.....he is soooo cute, how could you not!! He has done very well with everyone he has met, including all the other dogs in the neighborhood. There are several dogs of all sizes in the neighborhood and they all get together outside to play.....he is definitely the hit of the neighborhood!!!

Thank you so much for all of your help and support since October, he was definitely worth the wait. I am sure I will be in touch in the months to come with questions and we are already talking about another puppy in the next year or so...we will definitely be in touch then.

I do have a question now.....I was reading the info again that you sent us a few weeks ago. Do you actually feed the puppies fresh fruit? Just want to verify that before we try to give him apples!! By the way, he is eating great....we will probably stick with the Flint River rather than changing him to anything else.

Again, thank you...I am sure we will be in touch soon.

Tina & Ron Brooks
---
He is doing just fine. He is playing hard with our other dog. They are about the same size except Scout is full grown! We named him Atticus so now we have Scout and Atticus, after the two characters in To Kill a Mockingbird, He is going to the bathroom regularly and lets us know most of the time if he wants to go out. He is fascinated with our pond. We have huge Koi and he sits and watches them swim. Yesterday he went for a dip. My husband went out today and got fencing to put around it until he is bigger. He is sleeping mostly on our tile floor because I think it is cooler for him. It is not hot here, but today it was warm. We all went to the park and he got hot and tired and I had to put him in the wagon.

Bridgette
---
Hi Jill,
I just wanted to drop you a line and let youknow how great Tara is doing. She's growing like a weed. She's around 65 lbs. now. Not bad considering she weighed 14 lbs. when we brought her home on January 10th. She has been spayed. We also had the Penn Hip x-rays done at that time. Her hips are great. The vet was very pleased. She has been to puppy class and she goes to puppy day school twice a week. She's a great student. The trainer says she is doing very well. It's amazing all the head turns she gets. Everybody wants to know what kind of dog she is. I will send a picture soon (once I figure out my new digital camera). Thanks again for everything. The Hodge Family
---
Jill: We had a great weekend in NC, visiting with our friends and enjoying Maggie. I have to tell you she created quite a sensation at Blowing Rock on Saturday afternoon. I was constantly surrounded by people wanting to know where she came from. We referred two people to you. Don't know if they will contact you, but they sure liked Maggie. We drove all the way home on Sunday (about 800 miles). Needness to say, we were tired, but the puppy was a great traveler. She has settled in nicely, and is enjoying her new best friend Jack, a 3 month old Golden Retriever. They will be great pals. Please tell Alfred hello. We enjoyed meeting him.

Bill and Dixie
---
Dear Jill:

First of all, she is the cutest, most wonderful puppy in all the world, We love her so much. We have named her Molly, as my friend at Biltmore calls her dog Mally and that is close. We took her to the vet on Friday and she has round worms, We de-wormed here for three days and will take in another stool sample on this Friday., She got the shots she needed on Friday, Jill, she is so big. We drive her in her crate as I have a Toyota Sienna van and it fits in the back seat in a seat belt. We bought her about six toys so she has two or three in the car, at the summer home in the Indiana dunes, and here in Chicago. She sometimes pees outside and sometimes, especially in the evening, she has accidents, The poo outdoors is coming along, not always as good as it could be.

Molly sleeps in our bedroom in a crate [large and new] in Chicago, In Indiana, on weekends, she is just loose as the floors are wooden so it is easy to clean up. We tried papers but she ignored them. She also ignored the puppy pampers we laid on the rug, But, Jack and I bought plenty of Simple Solution for spots and good smell so we are fast to clean up.

Today, Molly was in the yard with the wet leaves running and rolling with our six year old lab and sheep dog mix. He is about 65 lbs, and she loves to be with him. His name is Truman and he is very gentle and tolerant of her antics. She loves to try to eat his food and drink her water and bark at him. They look so cute together. I have not taken pictures for a few days as I am teaching Thursday nights and giving exams so have been too busy with her and classes.

Molly does not like her food. The vet gave us puppy Evo, which she refuses to eat [she has me trained by now] so I have been cooking hamburger every day. Vet will supplement the beef with other things, She is as happy as can be and learned to go up the steps yesterday. I carry her down as she is afraid of the down steps. Jack and I bought the two books of the Monks of New Skete and have read them. We have not started training as to stay and sit etc. but she is learning "No!' when trying to bite my fingers and toes. We hope to start puppy kindergarten soon as the vet knows of a very good place. He thinks the Monk's books are old fashioned so we will see what is new. Molly follows me all day as I make food and clean and go shopping. I love having her by my side as I work in the house and outdoors. [It is very warm this week--near 60 degrees, tomorrow and Thursday in the 70's.] Right now she is asleep in the kitchen so I am upstairs for a few minutes writing you.

I will send pictures. She will get a bath this afternoon as she is so dirty from the wet leaves. Will send a photo soon with Molly and Truman. She is such a love, how did we ever live without her? Take care, Margie and Jack
---
Hi there...
Poor Aiden had quite the shock Saturday morning when we went out first thing...we woke up to 6 inches of snow!! He really enjoyed himself though...the one picture he is saying hi to our very senior citizen lab. He is getting along great and does so well at pottying outside! He is a talker too!! Not really a bark and not really a whine...very cute! We just adore him!! Worth the wait!

Thanks, Shannon
---
Hi, Jill,

We are just in love with this little puppy! He got his shots today, and I had him microchipped. He was really good about all of it. He's been getting to know everyone here, he wanders around being really social. My parents love him to death, too.

D.J. Broussard
---
---
---
---
---
We reallyappreciate everything! He is so awesome, way over our expectations. We will definitely be calling you when our 11yr. Old is gone for another great puppy!

P.S. Thanks again for all your hard work it shows! I would highly recommend you to anyone!

THANKS SO MUCH THE RUSSELL FAMILY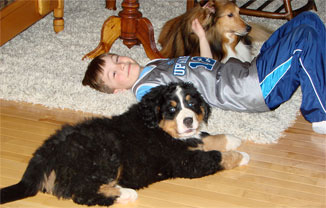 ---
Hey Jill,
I had to order some more food, (Zeus loved the lamb!) and I thought I'd send out a quick hi to let you know that all is well. He has gotten very leggy and is solid, about 35 lbs. Clio is enjoying her playmate but I think he gets the better of her most times. She is pretty easy going so she gives in when he's near the toys, treats etc. He's learned to sit, lie down, wait and comeÖwell most of the time. We took the two of them to Pet Smart today and they were like celebrities. Everyone had to pet them and ask about them. They loved every minute of it! Of course they came home with some little toys and treats.

I guess you can tell we are really enjoying our little guy. He is very loving and likes to cozy up on the floor after he's done for the day. We'd love to hear from you sometime. I will pass along more pics soon.

Take care,
Sheryl
---
Hi Jill! Marley is doing great! Getting big fast! I can't believe how much he eats! We've signed him up for obedience school starting next month. He already knows sit, down, and stay and we're starting to work on heel - so he should be OK. Just thought it would be good to have him socializing with other dogs. I've attached a picture, in case you're interested. He's really a very good dog, just gets a little ornery once in a while, but that's to be expected with a puppy! My parents were very impressed with him. Thought he was very well behaved for a 4 month old puppy!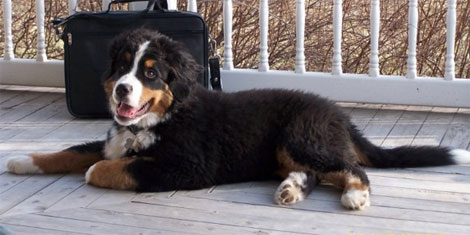 ---
Jill,
The puppy is great and growing fast! She is really calming down and learning so much. Attached are some recent pictures.
---
Hi Jill,
Here is a new picture of Jazzmyn, taken a few weeks ago, she is doing great! ball of energy! Growing like a weed.
We sure love her.
Kim (in New York)
---
Good Morning Jill,
Thanks SO much for answering our questions and helping us out. Little Abbey went to the vet yesterday and she did very well. She's sleeping better at night as she is getting use to her crate and we are all thankful for that. I'll send some more pics soon as she grows .
Talk to you soon,?
Jon and Beth
---
Shamrock (Pink) is doing very well! She has a great disposition! Every day she is growing and changing. She is getting a great deal of attention from everyone who sees her. They want to know where we got her. The pictures of her mom and pop look great! I will send pictures soon. Thanks so much! The Groves
---
Hi Jill -
Nice to hear from you! yes, ashbury is huge & beautiful! not exactly sure how much he weighs now, but my guess is around 85 pds....he's 8 months today too!
He is challenging now b/c of his puppy behavior matched w/ his big size, but I've been working w/ a new trainer which has helped. when do you find they mellow out?
I'm still bringing him to work everyday & he already has a following - pp come in just to see him!
I will send a picture shortly.
Take care,
Dulcie
---
Maggie is doing great! She's quite a big girl. At 7 months she stands 23 inches at the shoulders! I will send you pictures of her in the mail ( since I don't have a digital camera) The explanations of the pictures will be on the backs of the actual photographs. I will send them out ASAP! Talk to you later!
-Heather Kennedy & Magnolia (Maggie)
---
She is so great and REALLY beautiful. Besides the occasional eating of trees in my yard she's perfect! I had to board her a few days last week and she weighed 72 pounds. She's a BIG BABY! I'll get you some pictures. - Amy
---
He arrived in great shape and when we walked into the freight office the crate was there and he barked saying let me out. Took him to the car and while I was signing my wife put him in the back of the car. She then took him out for a little stroll and when she closed the lift door it locked the car with the keys inside so we had to call AAA who was there in 15 minutes.

He is a real cutie and could not be friendlier or more energetic. He has pottied a couple of times and we're starting on the house breaking and bite the toy not the furniture or people. He is a true delight and follows us everywhere so I am sure all is going to be fine.
---
She weighs 5 lbs more than Cooper did at the same age of 9 weeks. (16,5 lbs) Are all your puppies so chubby? Her favorite place to take a nap is next to the feeding dish! :) She seems content outside in the pen. Has she spent much time outside? Has she spent much time crated, aside from the plane trip to Long Island? A very happy puppy and almost fearless of Cooper. She will quite possibly be alpha. He is already letting her take his food, his toys, etc/ He will move away from the water dish to let her drink. He is so gentle; even lets her poke him with her nose and sniff his mouth, then climb all over him. Beautiful fat pup!
---
---
These are the most recent pictures of Gracie and Molly. Gracie is doing great. I love her too much. She has the most entertaining personality. I love everything about her. Everyone that meets her, absolutely loves her.
Jerry Updegraft
---
Jill:

Yesterday was Toby's birthday. Thought I'd send you a few picture to see how's he's grown up. He's doing very well. Hope all is well with you.

Bill Mangano
---
Hi Jill:

Shamus (Adam) is without question the sweetest dog we have ever seen, let alone owned.

So you can see the difference between the cuddly little pup you handed us and the cuddly year old, a picture, taken today, is attached.

Shawn Malone
---
Just to let you I know I am the one who got Beau the only male you had in that litter last November. He is the one that my son & he won the contest with Pets Supplies Plus in Goldsboro and we won the LCD TV/ computer screen. His picture was on the national web site for Pets Supplies Plus over the summer. I named him Bennington, and he is working now to be my new Demo dog for all my dog obedience classes for Seymour Johnson Air Force base as well as all the classes I teach for the City. We are also in the beginning stages of training in Schutzhund as work on tracking, obedience, and his AD. We will hopefully be going to our first trial in March up in Raleigh where we will do our 12 mile bike ride to earn his AD in Schutzhund. I am having to take it slow since his growth plates are still not set till he?s 18 months even though I think he could probly do the 12 miles before Christmas ( not taking any chance). He is a big boy & a solid one at that. He has a great personality and takes to all of our training very well, he has a good drive and is easily motivated.

Jessica Smith
---
Thanks for the info about our pup.He is perfect in every way.He will be 5 months monday and he is real close to 60lbs.He is a great family pet. He and our little girl are constant companions.It was funny to get your info on his developement.Especially on his puppy coat.He is already losing it in fact he looks like he is wearing a hair-piece with all the fuzz.Here is a cute picture of him. Thanks and we will send yall more pics. Shannon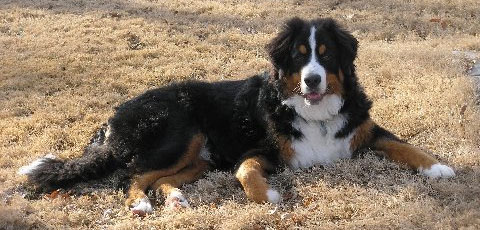 | Return Home | About Us | Breed Info | Boys | Girls | Puppies | Photos | Contact us |